ARGENT K6 RGB Low Profile Mechanical Gaming Keyboard Cherry MX Red
The ARGENT K6 RGB Low-Profile Mechanical Gaming Keyboard is crafted with an aluminum top plate and a floating keycap design, incorporating Cherry MX Low-Profile RGB mechanical switches. Also, the ARGENT K6 Keyboard supports 16.8 million RGB color, providing the brightest visibility and eye-catching style for your gaming sessions.
Thermaltake

ARGENT K6
R

G

B


Low Profile Mechanical Gaming Keyboard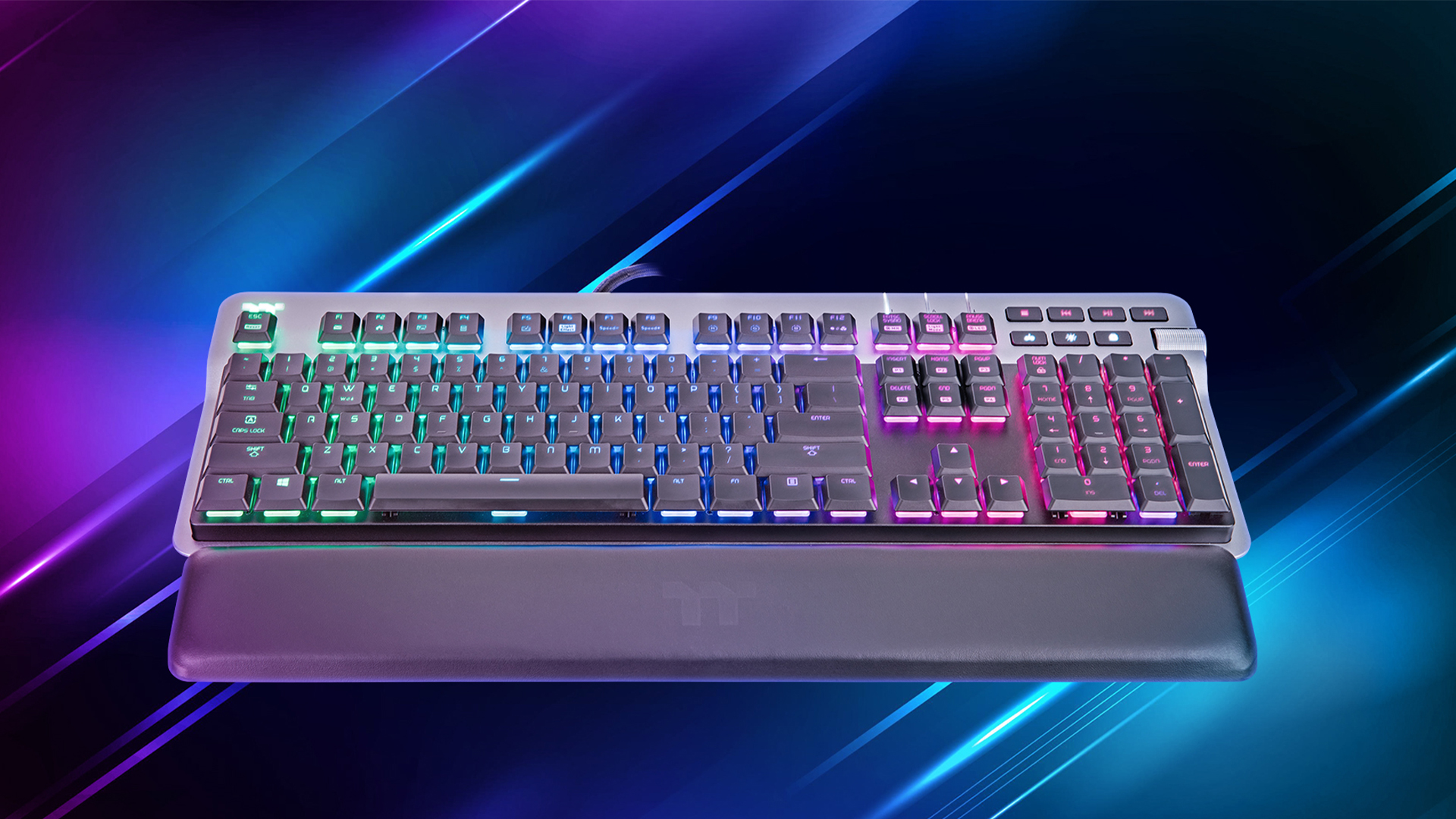 Cherry MX Low Profile
R
G
B
RED
The CHERRY Low Profile RGB Red features linear switching characteristics combined with low spring resistance triggers directly. Also, thanks to its particularly low overall height, it provides shorter bounce time and longer click lifetime.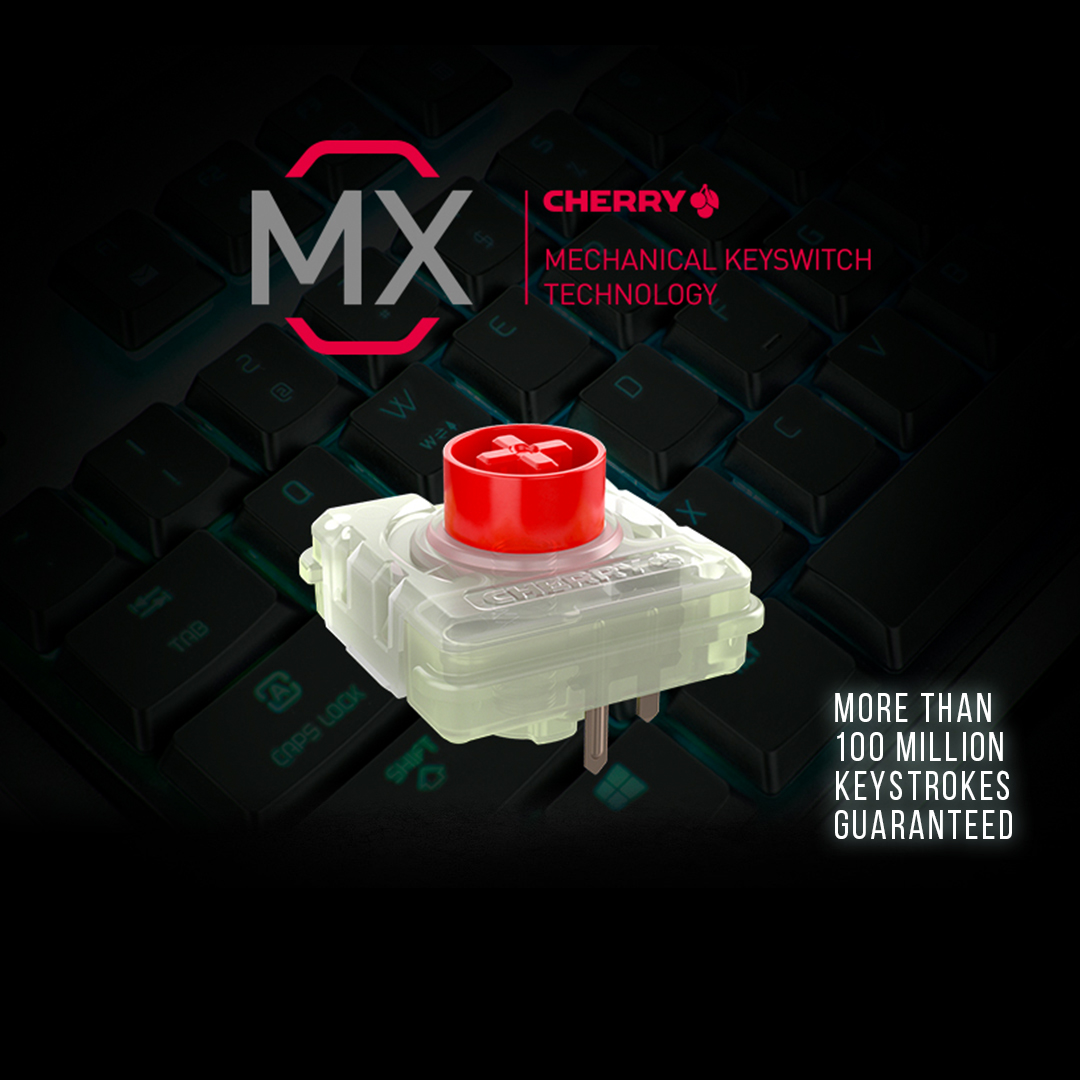 Curvature Design with Aluminum Top Plate
With a splendid asymmetrical curvature design, coupled with aluminum top plate, floating keycap design and individual key illumination, the ARGENT K6 RGB allows enthusiasts to not only challenge the game, but game in style as well.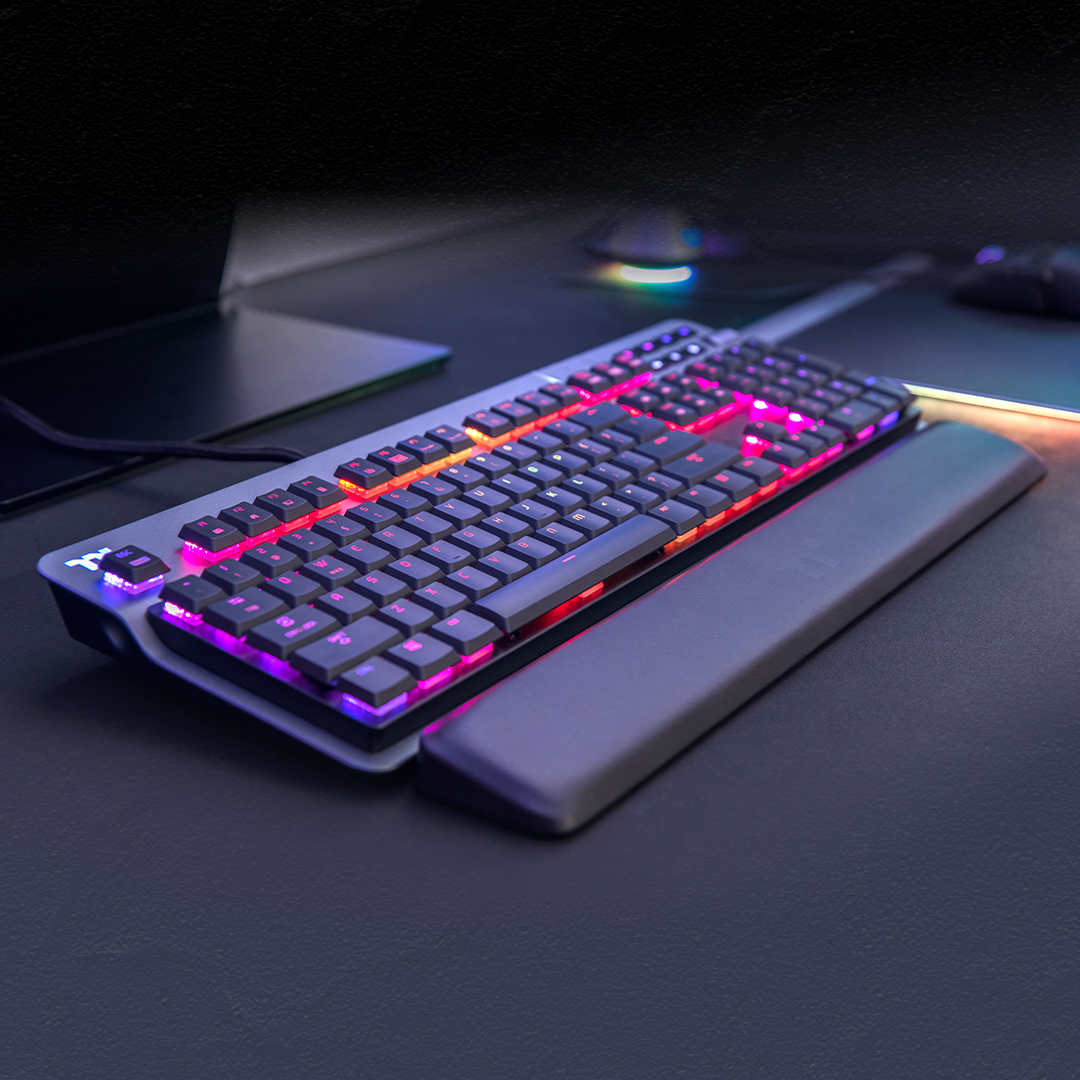 Car Audio Style Multi-function Knob
An aluminum rotatable volume control knob allows you to not only adjust the volume but swipe and switch the webpage easily on the fly. What's more, you can customize the knob function through our iTAKE software.

Pressing the

and

together to switch the function
Scroll up ▸ Mouse Swipe Up
Scroll down ▸ Mouse Swipe Down
Press the knob ▸ Previous Page
Press the knob x 2 ▸ Next Page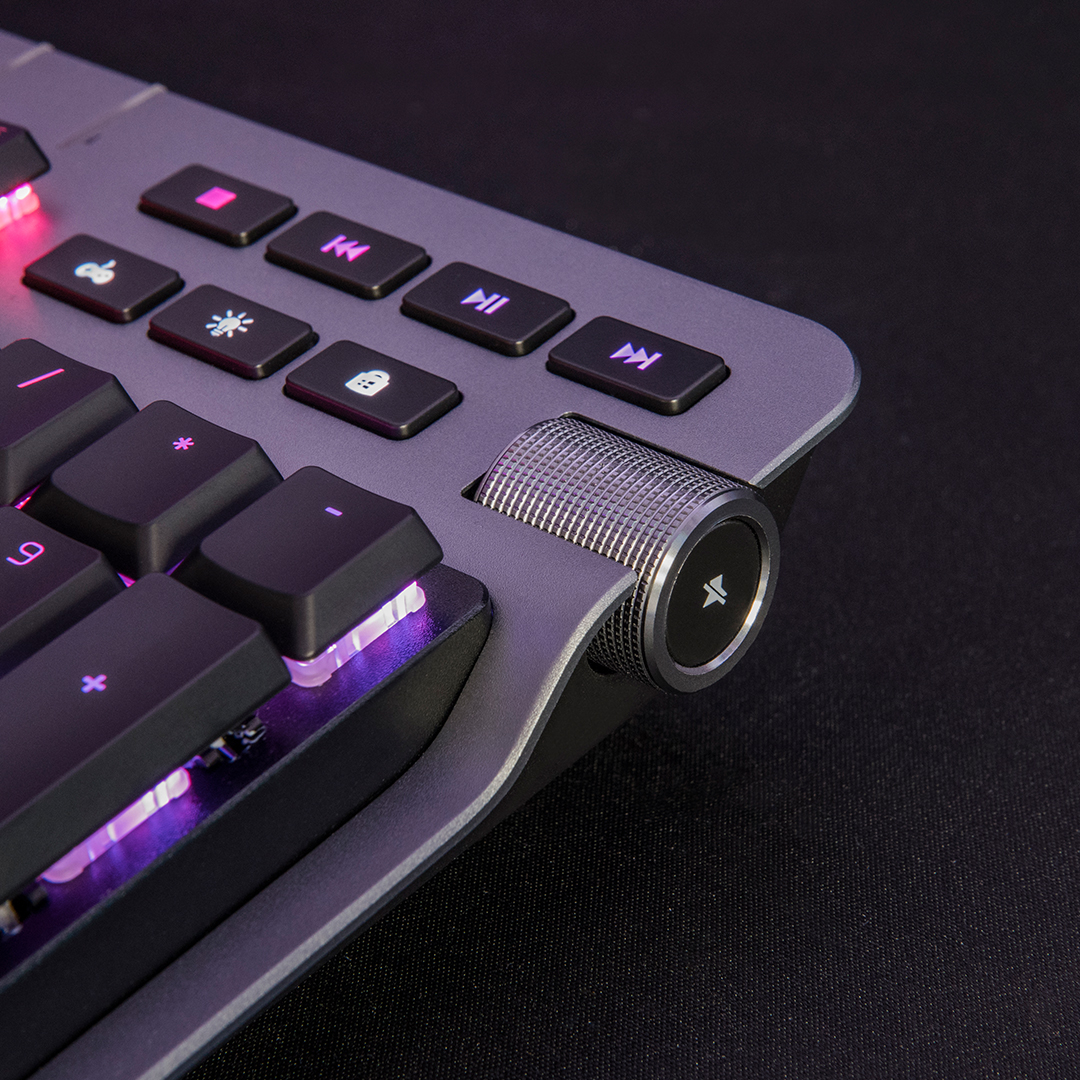 Light up your battles
Light up your battles with 16.8 million RGB color illumination and multiple lighting effects, providing you the brightest visibility and eye-catching style for your gaming session.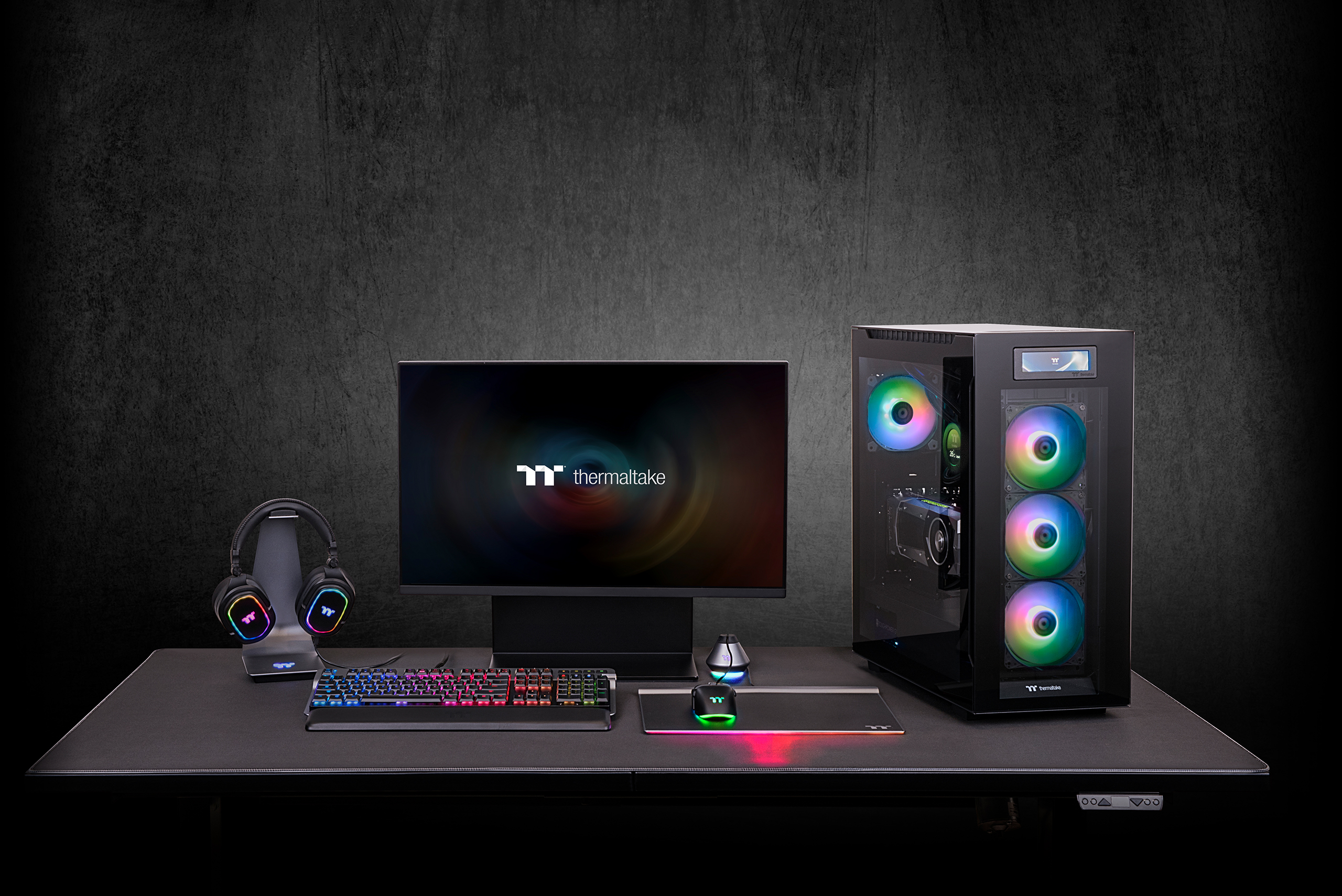 Magnetic Wrist Rest
Includes a magnetic wrist rest made with synthetic leather, fulfilling both comfort and ergonomics.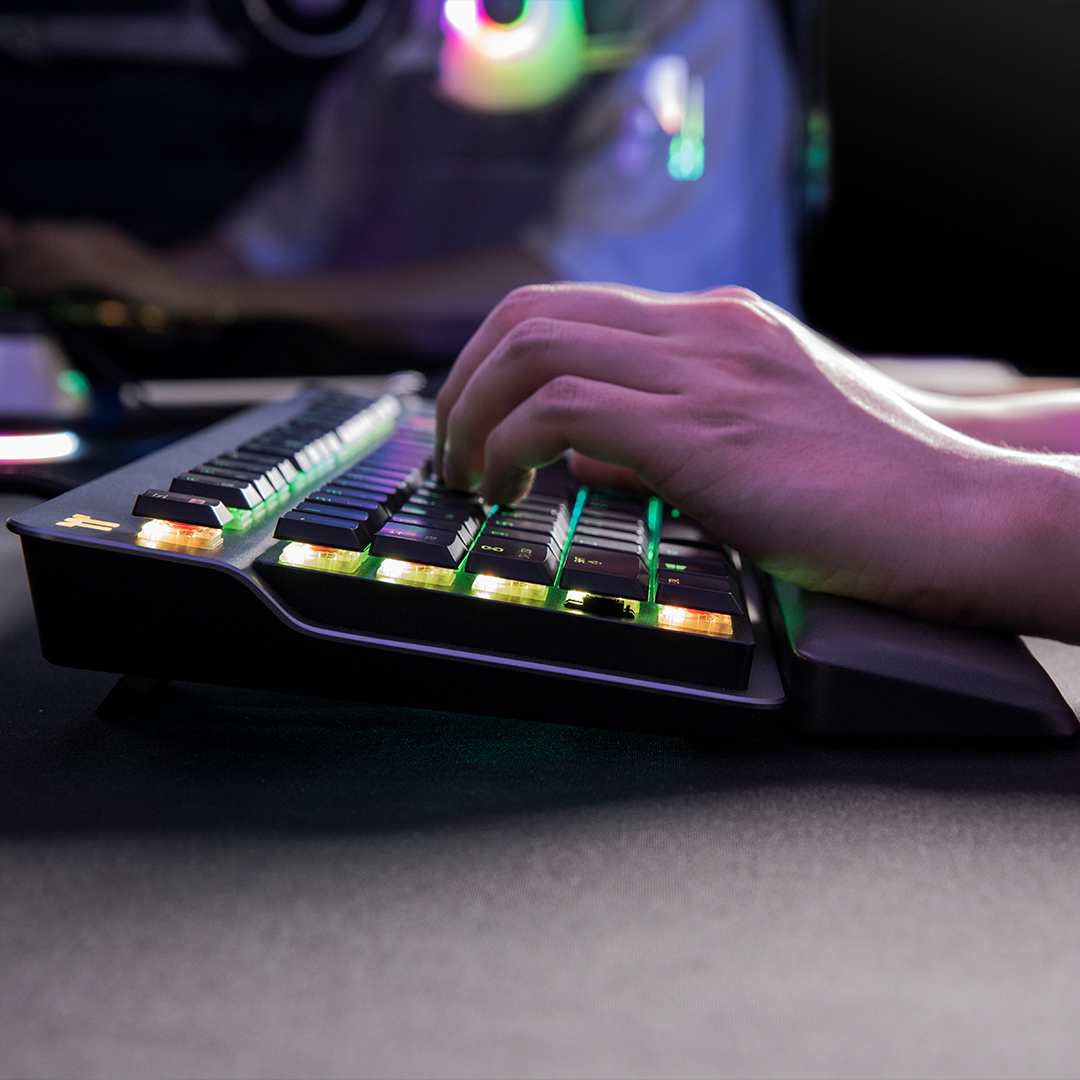 MADE FOR POWER PLAYS
AUDIO & USB PASS THROUGH
Convenient pass-through of one 3.5mm audio jack and one USB 2.0 port. Connect compatible devices for a speedy plug and play action.
DEDICATED MULTIMEDIA CONTROLS
Control sound levels on-the-fly and access multimedia controls with ease using the conveniently placed dedicated controls.
ONBOARD MEMORY
Macro recording, change backlight effects with intuitive keyboard commands, and store up to 6 onboard profiles.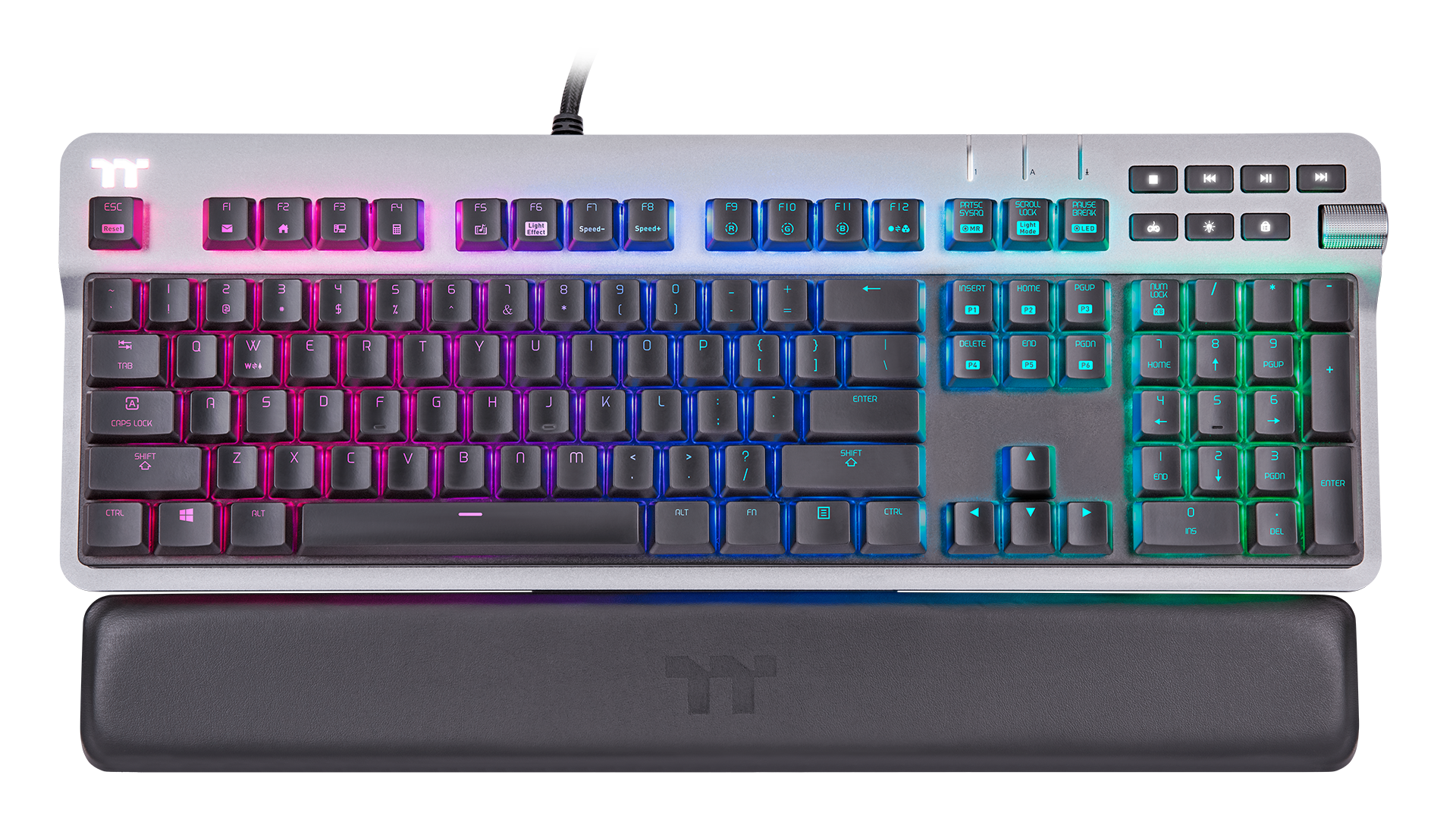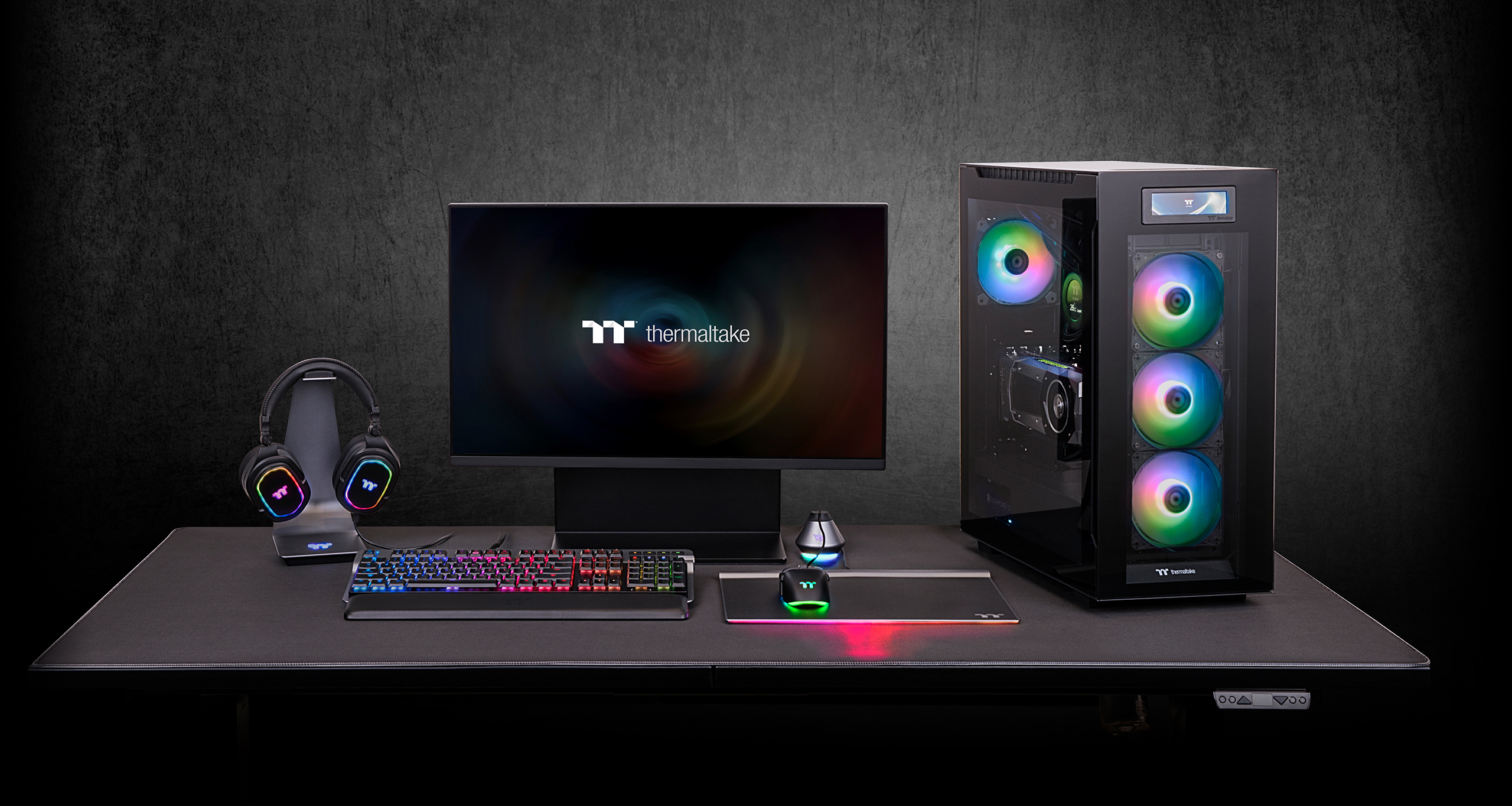 *Photo is for reference only
iTAKE ENGINE SOFTWARE
Adjust brightness, speed and direction of the RGB lighting effects; customize lighting effects and SyncALL RGB colors of all your Thermaltake Gaming Peripherals via the TT SYNC function, creating one complete ecosystem.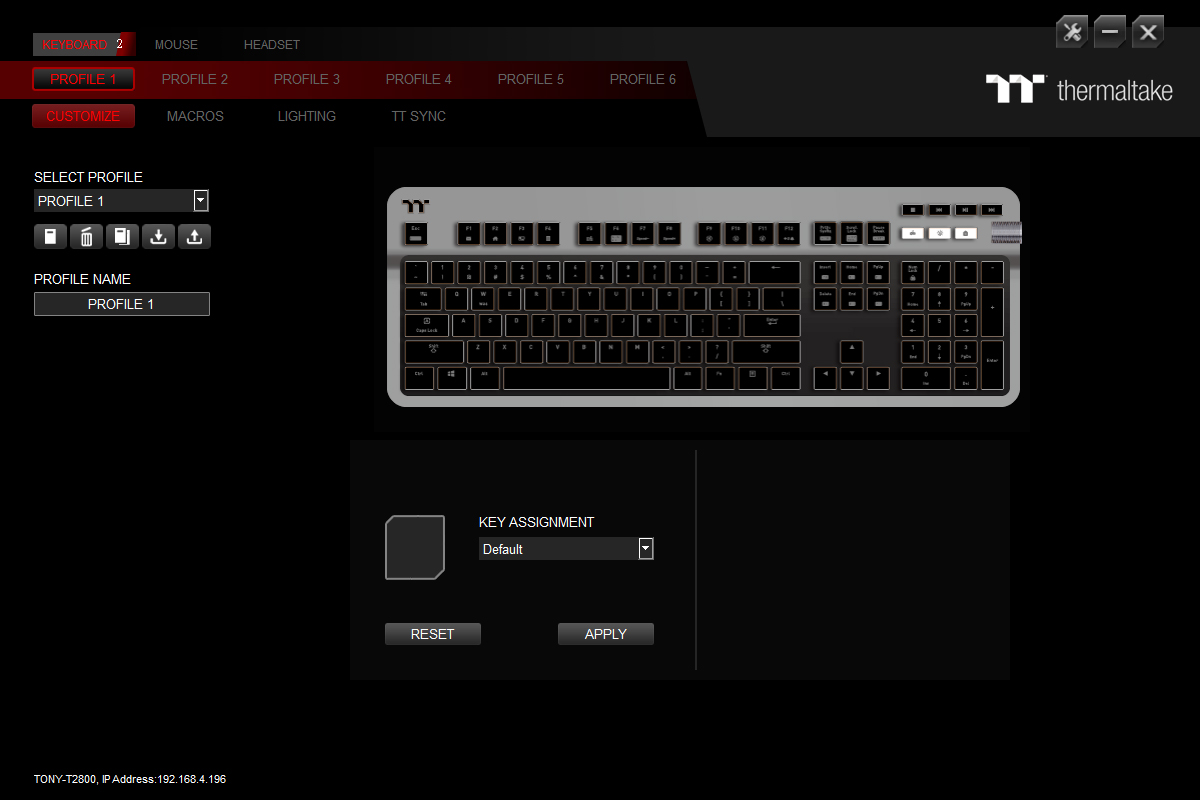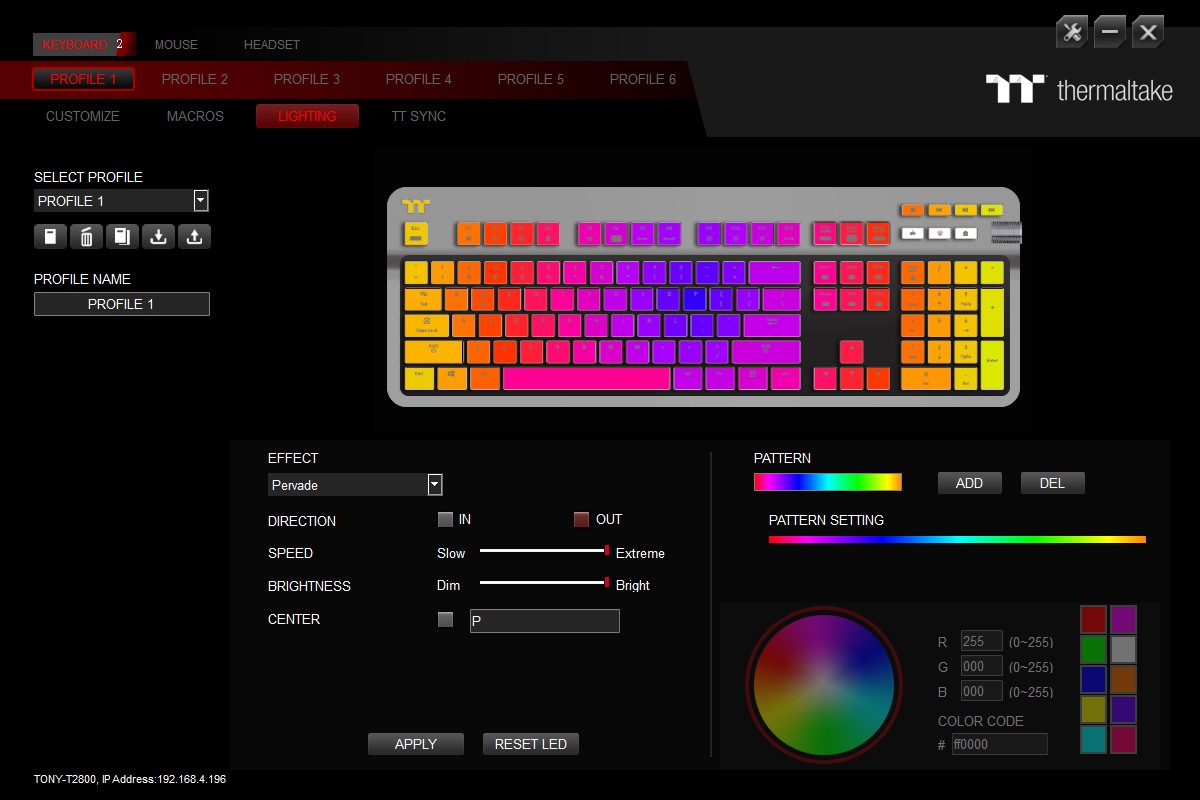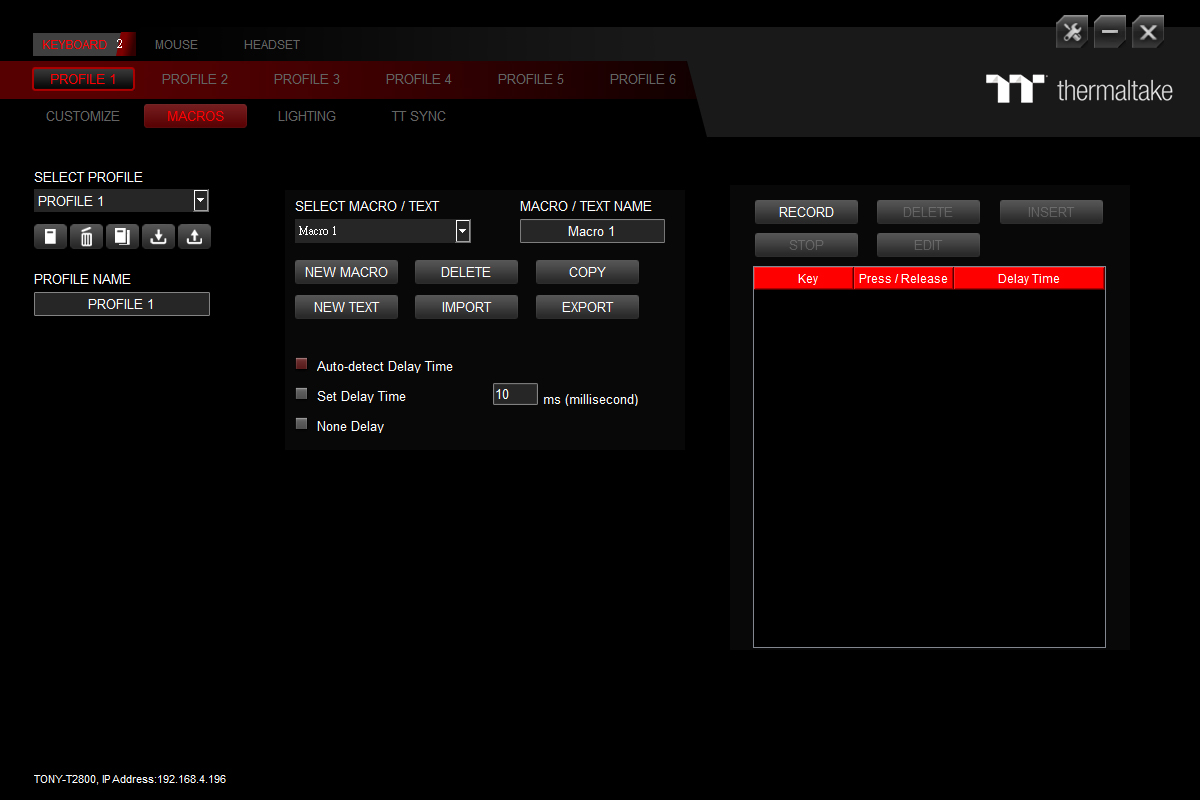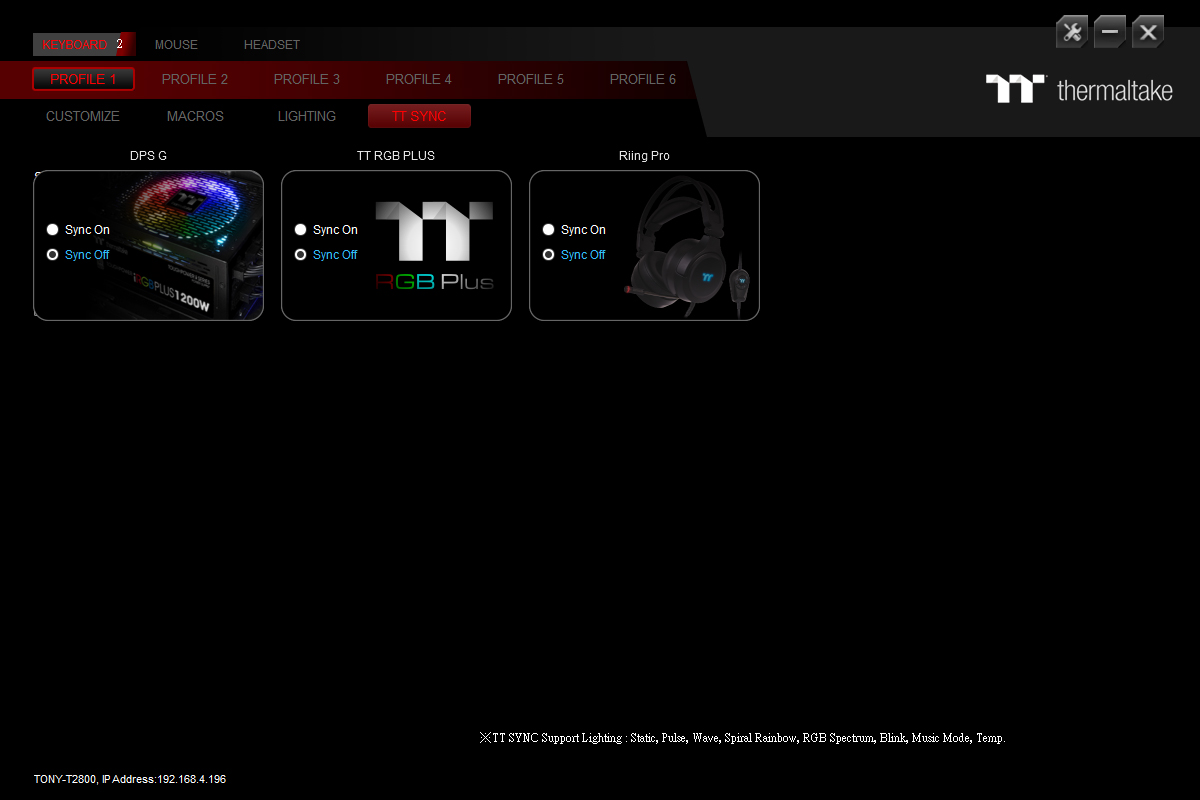 TT RGB PLUS
TT RGB PLUS Ekosistemi, Thermaltake'in patentli TT RGB PLUS Yazılımı ile birlikte en gelişmiş ve akıllı ışık sistemidir. TT RGB PLUS Ekosistemi renklerle oynamak, renkleri oyunlara göre senkronize etmek, müzik, CPU sıcaklığı veya kasa fanları, CPU/VGA su blokları, AIO CPU soğutucuları, PSU'lar, LED şeritler ve yan ürünler gibi diğer TT RGB PLUS ürünleri için neredeyse sınırsız olanaklar sağlar. Patentli yazılım, kullanıcılara ışık modları, renkler, hızlar, parlaklıklar, fan hızları ve hatta İOS ve Android cihazlardaki AI ses kontrolü alanlarında değişiklik yapabilmelerini sağlar.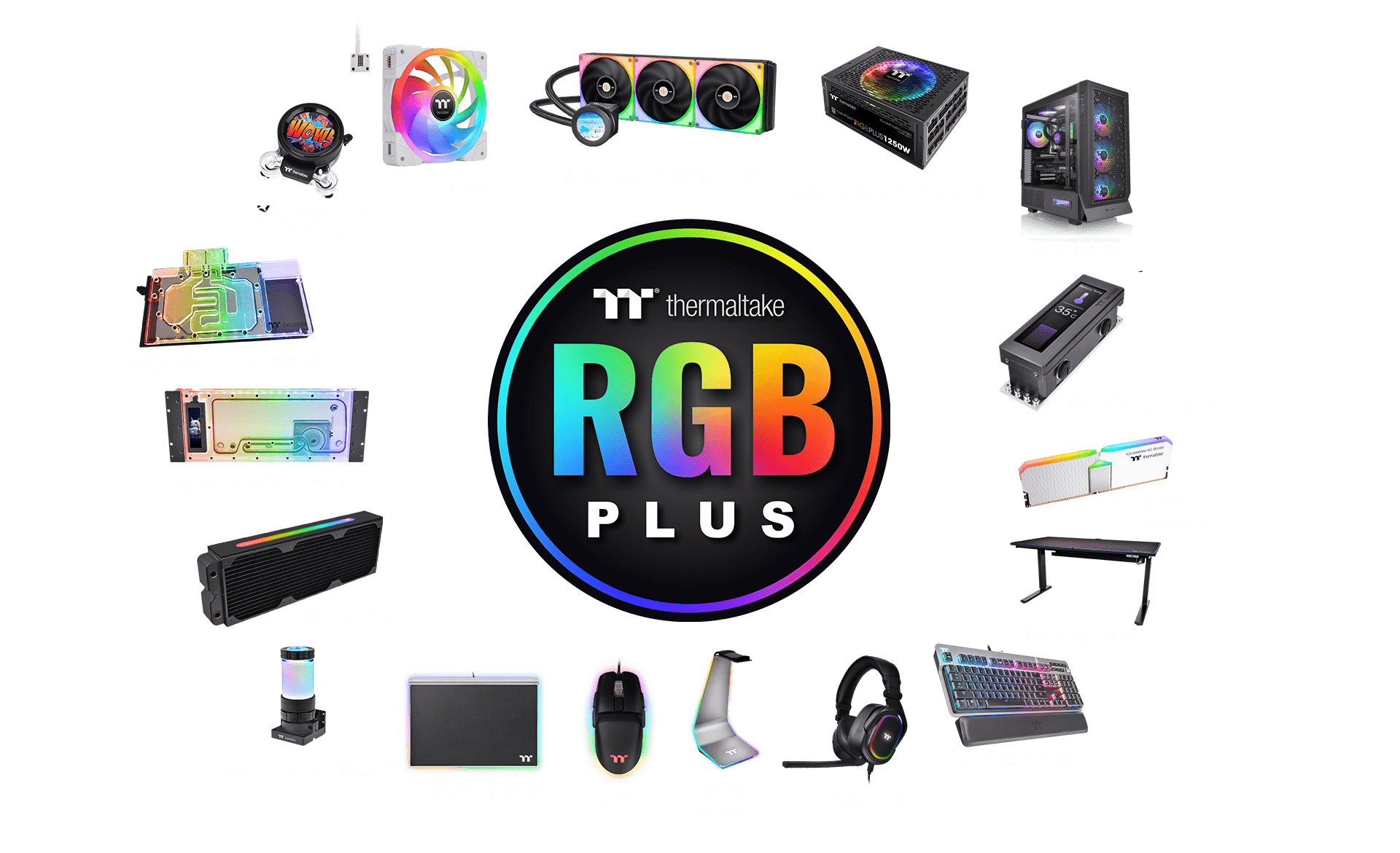 TT RGB PLUS 2.0 Yazılımı
Thermaltake'in TT RGB PLUS patentli yazılımının yeni sürümü, daha fazla aydınlatma efekti ve PC izleme işlevi sağlar.

Dikkat:
TT RGB PLUS 2.0 ve TT RGB PLUS 1.0 birbirinin üzerine yazar; kullanıcılar TT RGB PLUS'ın yalnızca bir sürümünü yükleyebilir.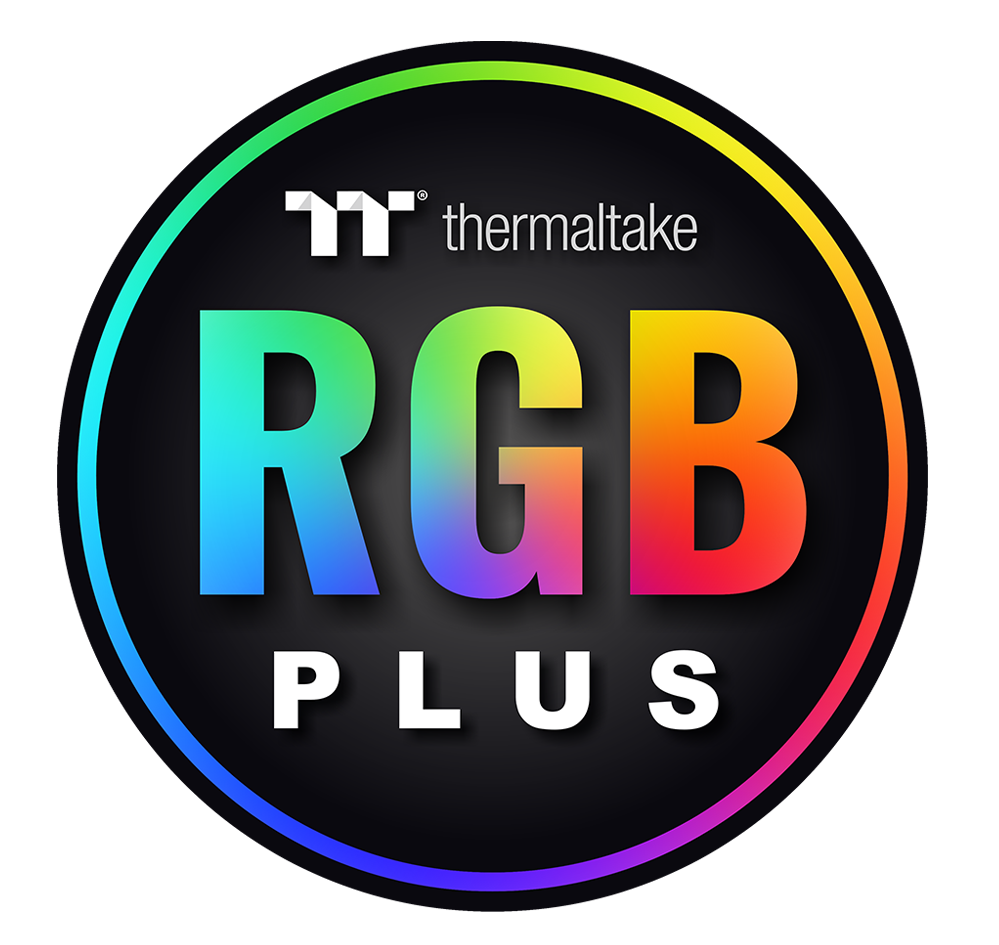 Daha Fazla Bilgi

| | |
| --- | --- |
| P/N | GKB-KB6-LRSRUS-01 |
| Renk | Titanium |
| NO. OF MACRO KEYS | NO |
| ONBOARD PROFILES | SIX |
| GRAPHICAL UI | YES |
| Ağırlık | 1035G |
| GOLD-PLATED USB | YES |
| Boyutlar | 454 x 157 x 37.5 mm |
| Arayüz | USB |
| ANTI-GHOSTING KEYS | YES / N KEY Rollover (USB) |
| ON-BOARD MEMORY SIZE | 4M bit |
| POLLING RATE | 1000 HZ |
| BACK-LIGHT | 16.8 Million RGB Colors |
| WRIST REST | Yes (Magnetic, Detachable) |
| AUDIO AND USB PASS-THROUGH | YES |
| MULTIMEDIA KEYS | 5 + Volume Wheel |
| BRAIDED CABLE | YES |
| Kablo uzunluğu | 1.8m |
| SWITCH TYPE | Mechanical |
| SWITCH NAME | CHERRY MX LOW PROFILE RGB RED |
| OPERATING FORCE | 45g (RED) with Optimized Tactile Feel (Linear) |
| KEY LIFESPAN | 100 Million Clicks Lifetime |
User Manual
Dosya Adı
Açıklama
Boyut
Version
Release Date
Drivers & Software
Dosya Adı
Açıklama
Boyut
Version
Release Date