Thermaltake Officially Starts the Modding Fighting Championship Season 2
Battle for the Best Core P90 Mod


Taipei, Taiwan-November 9th ,2017-Thermaltake is thrilled to announce Thermaltake Modding Fighting Championship (MFC) is back! The MFC Season 2 is the most exciting and monumental modding competition of the year in CaseMOD community worldwide. To bring even more enjoyment to PC enthusiasts, this time, Thermaltake has invited the top two winners from the 2015 Thermaltake Case MOD Invitational Season 1 to the 2017 Thermaltake Case MOD Invitational Season 1 including Suchao Prowphong, Stuart Tonks, Jesse Palacio, Mathieu Heredia, Peter Brands, Ali Abbas, Yu Han, Siwasak Sirisomboon, Von Carlo Rasonable and Chaipoj Khaowasut. Contestants are required to use Tt Certified liquid cooling components and Toughpower DPS G RGB 850W Gold Power Supply to modify Core P90 Tempered Glass Edition Mid-Tower Chassis.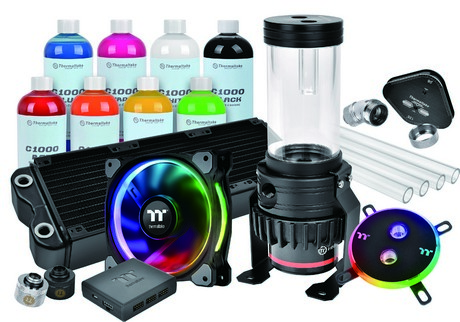 Thermaltake Modding Fighting Championship Season 2 is held at Tt Community (http://community.thermaltake.com/) from today to February 2018. The latest version of Tt MOD App is also released. The app is tailor-made for iOS and Android, allowing the mobile users to follow-up the competition and join the weekly voting events anytime, anywhere. From early November until late December will be the Prediction Voting Event. The Final Voting Event will begin in February 2018. Everyone is welcome to vote for their favorite modders on Tt Community, and enter a draw to win awesome prizes from Thermaltake and the sponsors including TT Premium, Tt eSPORTS and LUXA2. Thermaltake also offers up to $15,000USD cash prizes in total for the top 3 winners. More details about the MFC Season 2 can be found at: http://casemod.thermaltake.com/MFCs2/

Thermaltake Modding Fighting Championship Season 2 Highlights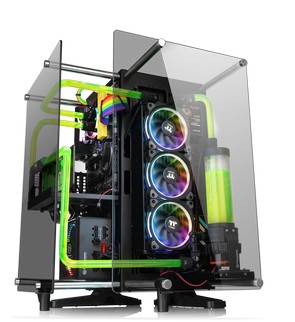 Core P90 Tempered Glass Edition Mid-Tower Chassis
Thermaltake Core P90 TG boasts the case structure split into three compartments for graphic card, PSU and other cooling components. The triangular prism shaped body and two 5mm thick tempered glass side panels turn the case into a hexagonal prism outlined creature, allowing for an ultimate system display from every angle. Along with its 3-way placement layouts (wall mountable, horizontal laying and vertical standing), 7 drive bays with modular drive trays design and high liquid cooling system expandability, the case permits users upgraded aesthetics and limitless potential with how they want to configure their systems.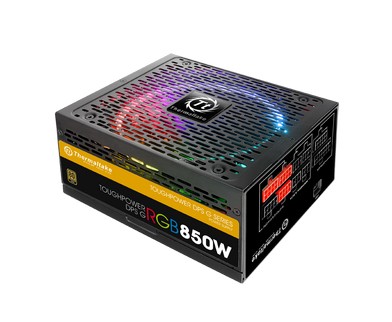 Toughpower DPS G RGB 850W Gold Power Supply
Thermaltake Toughpower DPS G RGB 850W Gold features a patented 256 colors RGB fan and high-tech components, made with leading technology and eco-friendly commendations. Coming with 80 PLUS Gold certification and flat cable, this unit adopts the highest quality components and fully modular design that always accommodate any mainstream builds under any circumstances. The combination of Toughpower DPS G RGB Gold Series and Smart Power Management (SPM) Platform helps users not just monitor smart power supply units, but also save the energy and reduce CO2 emission. For more details on the Toughpower DPS G RGB 850W Gold, please visit: http://www.thermaltake.com/Power_Supply/Toughpower_Series_/Toughpower_DPS_G/C_00002917/Toughpower_DPS_G_RGB_850W_Gold_/design.htm

Meet the Modders
Ø Ali Abbas from Germany, also known as Alan Lee or Abbas-IT on Bit-Tech.net and other forums, guarantees 100% handmade creations without using any CNC, laser cuts, or 3D printing. He won the 2nd place in 2016 Thermaltake CaseMOD Season 1.

Ø Chaipoj Khaowasut is the founder of Indy Laser & PC Case Mod in Thailand. He is good at designing a PC case by using Photoshop, AutoCAD, and CNC Laser machine. His "TT Turbocharger 900" build took the 2nd place in 2017 Thermaltake CaseMOD Season 1.

Ø Jesse Palacio from the Philippines, also known as JP Modified, is the winner of 2015 Thermaltake CaseMOD Season 2. He has been modifying PC cases since the mid-2000s and created mods for some of the biggest hardware companies in the world.

Ø Mathieu Heredia from France, co-owner of Watermod, has won several competitions for modding including the Bit-tech mod of the Month, Guru3D rig of the month and ASUS R.O.G mod of the month. He also took the 2nd place in 2015 Thermaltake CaseMOD Season 2.

Ø Peter Brands, from the Netherlands, has earned a high reputation in the PC moddding community. He is also the winner of 2016 Thermaltake CaseMOD Season 1. His well known projects include "L3p D3sk", "Cross Desk" and "L3pipe".

Ø Suchao Prowphong is the most well-known modder in Thailand. He took not only the 1st place in 2015 Thermaltake CaseMOD Season 1, but also the championship in Thermaltake Modding Fighting Championship Season 1 with his "Death Race" Core WP100 mod.

Ø Siwasak Sirisomboon, from Thailand, has done most of his projects by handcraft. He used the ROG robot as the inspiration to create a red themed Core X5 mod, and called it as ROG Red Base. The build won the 2nd place in 2016 Thermaltake CaseMOD Season 2.

Ø Stuart Tonks is the owner of GGF Lan Party in Australia, and has built a killer Core X9 case to match Thermaltake 'Tt Dude' mascot, involving custom orange paint and cooling loop filled with orange coolant. He also took the 2nd place in 2015 Thermaltake CaseMOD Season 1.

Ø Von Carlo Rasonabe, Filipino-Japanese modder, is also known as Reapervon online. He won the championship in 2017 Thermaltake CaseMOD Season 1, and has been showcasing many of his projects at ASUS events and Computex Taipei.

Ø Yu Han, from China, has been engaged in casemod for 6 years. His took the 1st place in 2016 Thermaltake CaseMOD Season 2 with his marvelous Core X5 build that has four movable claws, a laser cannon and a cockpit. He named the project as A War Machine from the Future.

Voting Rules
A weekly voting event will be held on the Tt Community forum and prizes will be given out to members who vote. You can choose to vote via the desktop or mobile devices. The Tt MOD App by Thermaltake is tailor-made for the mobile users to receive the latest information from the competition and join the voting events. The total percentage of the score allocated to the community voting is approximately 25%, with 25% by Thermaltake, 25% by expert modders, and 25% by sponsors.

The Tt Community platform (http://community.thermaltake.com/) is open to all users. We welcome you to join us by interacting and sharing valuable information and experiences with one another. Most importantly, your opinions and ideas will help us better understand your desires and expectations of our products and services. Don't hesitate; come register and vote for your favorite modder right away!

For more details on Thermaltake Modding Fighting Championship Season 2, please visit:
Official Website – http://casemod.thermaltake.com/MFCs2/
Download Tt MOD App
iOS – https://itunes.apple.com/tw/app/tt-mod/id1092415991?l=zh&mt=8
Android– https://play.google.com/store/apps/details?id=com.thermaltake.t768.casemod