TH240 V2 Ultra ARGB Sync All-In-One Liquid Cooler
TH240 V2 Ultra ARGB has a new industrial cap with a 480 x 480 resolution LCD Display, bringing Ultra to the TH series. Equipped with two CT120 ARGB fans, the TH240 V2 Ultra ARGB is suitable for small to medium chassis' that fits 240mm AIOs and for those who want to try the latest Ultra.
No matter the build, We've got you covered
The TH V2 Ultra ARGB Series covers various types of builds; the series has two 120mm fan models, including the TH 240/ 360 V2 Ultra ARGB, and two 140mm fan models, including TH 280/ 420 V2 Ultra ARGB.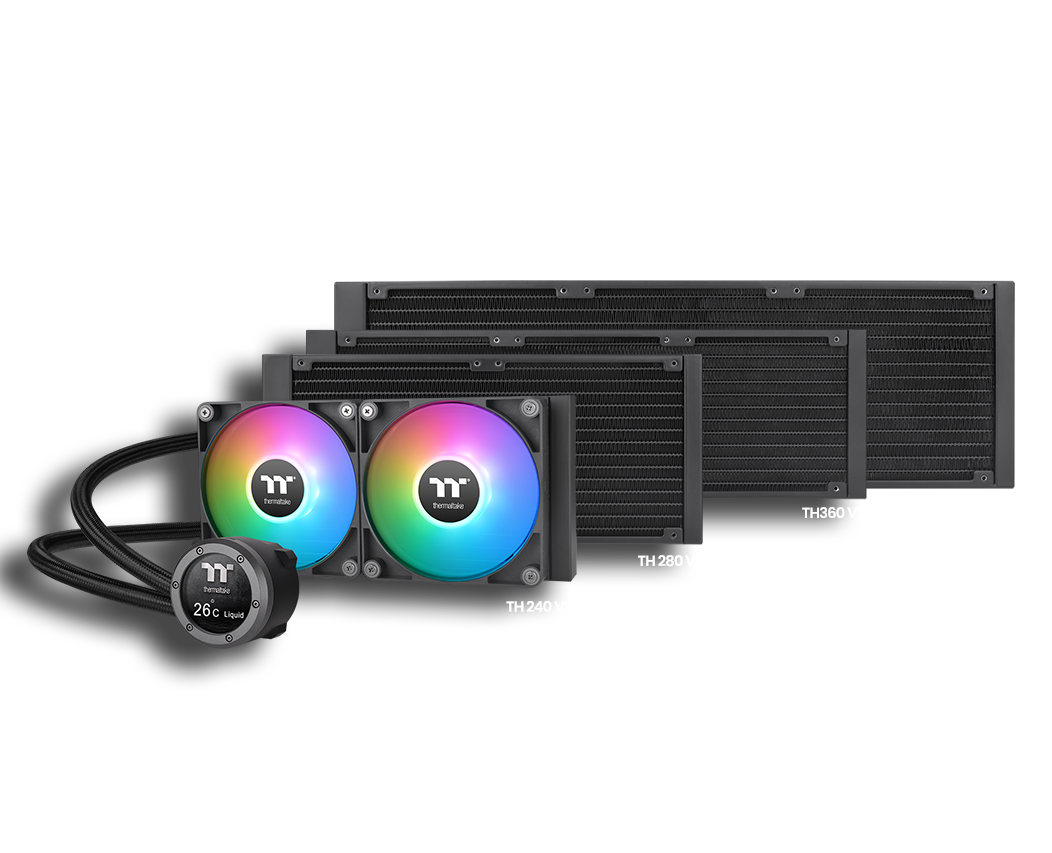 New Design, Same Quality
TH V2 Ultra ARGB was given an industrial look to freshen up the 2.1" LCD Display. With its 480*480 high resolution, you can easily show off 16.8M color videos or photos.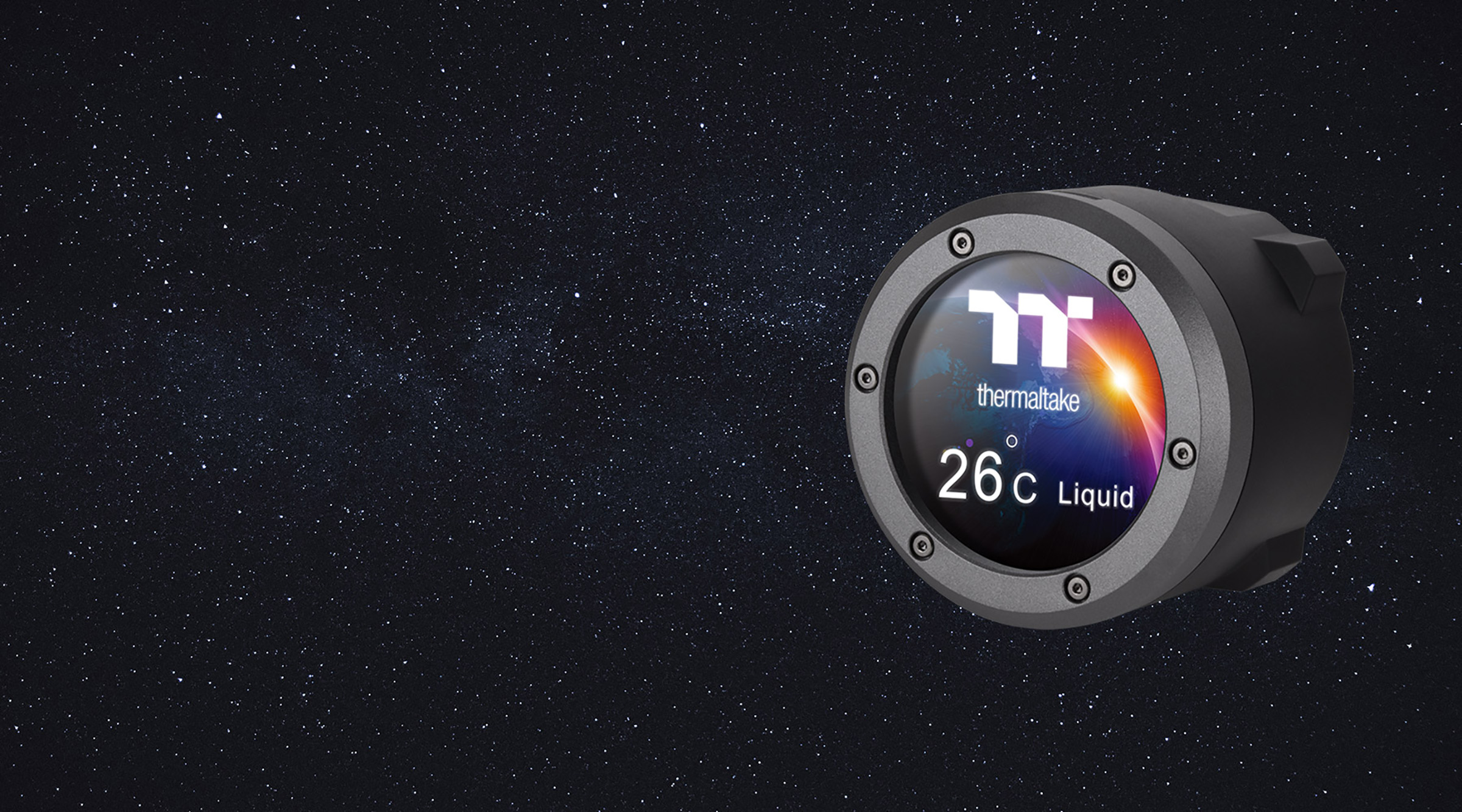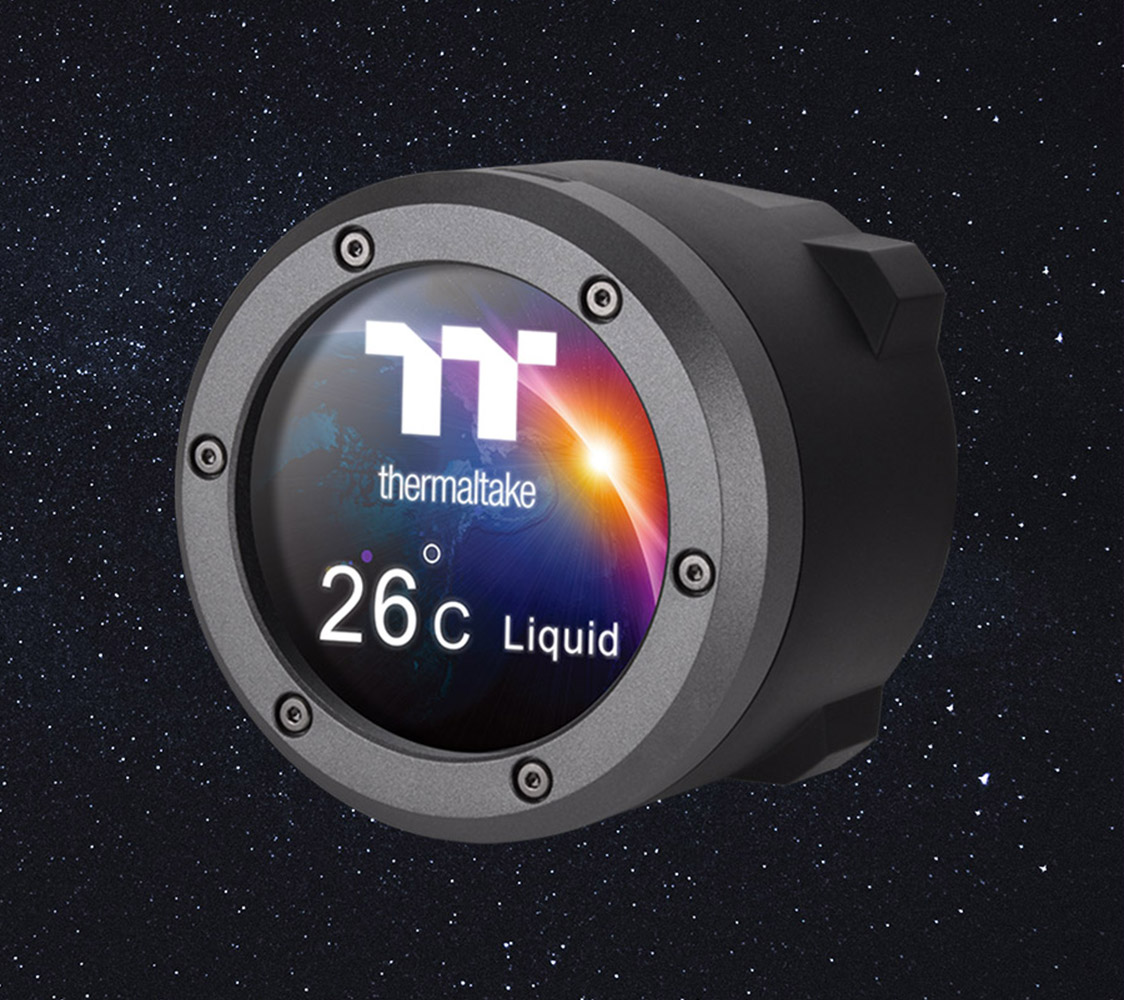 Personalize Your LCD Display
The TH V2 Ultra LCD Display is highly customizable, from presenting real-time information to playing JPG, GIF, PNG, MP4, MOV, and AVI files or even showing local time and weather information on the display; it can all bring great visual aesthetics to your build.
Sync with CT120 ARGB Fans
Utilizing the CT120 ARGB Fans on this model, not only you can match up some of our chassis' pre-installed fans, but you can unify your fans with your build!
The CT120 ARGB provides an 57.05 CFM air flow with 2.23 mm-H2O static pressure while maintaining 25.8 dB-A noise levels.

Note: This product requires motherboard sync for ARGB lighting effects
Enhanced Cooling Surface With A Compact Design
The TH V2 Ultra ARGB Series has a 27mm slim radiator with a thickened 20mm copper chamber, ensuring the same easy installation but with even better cooling performance.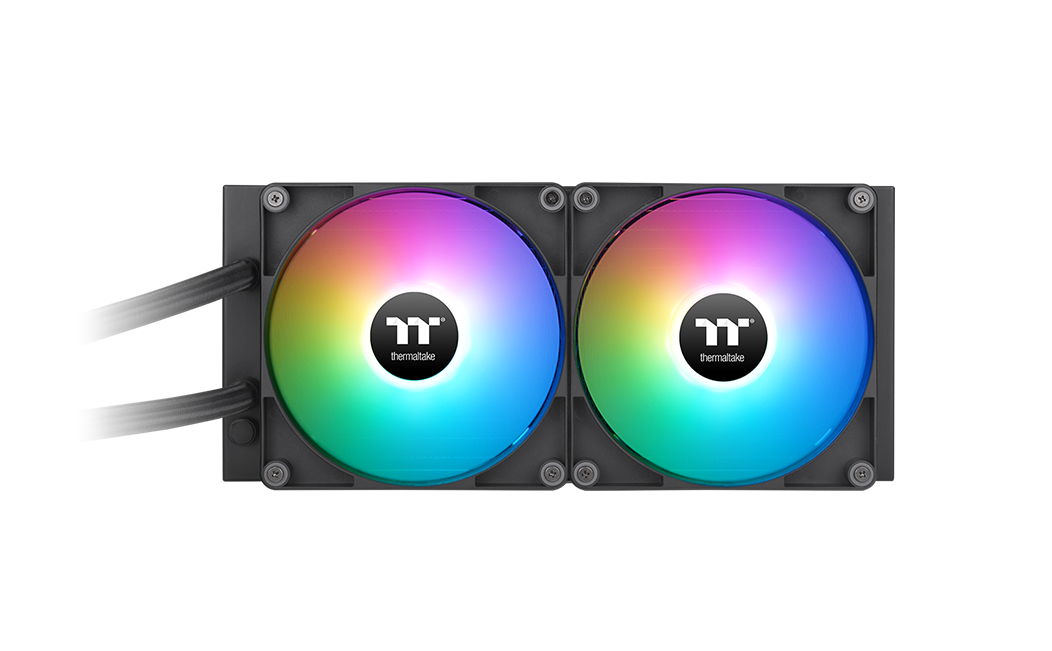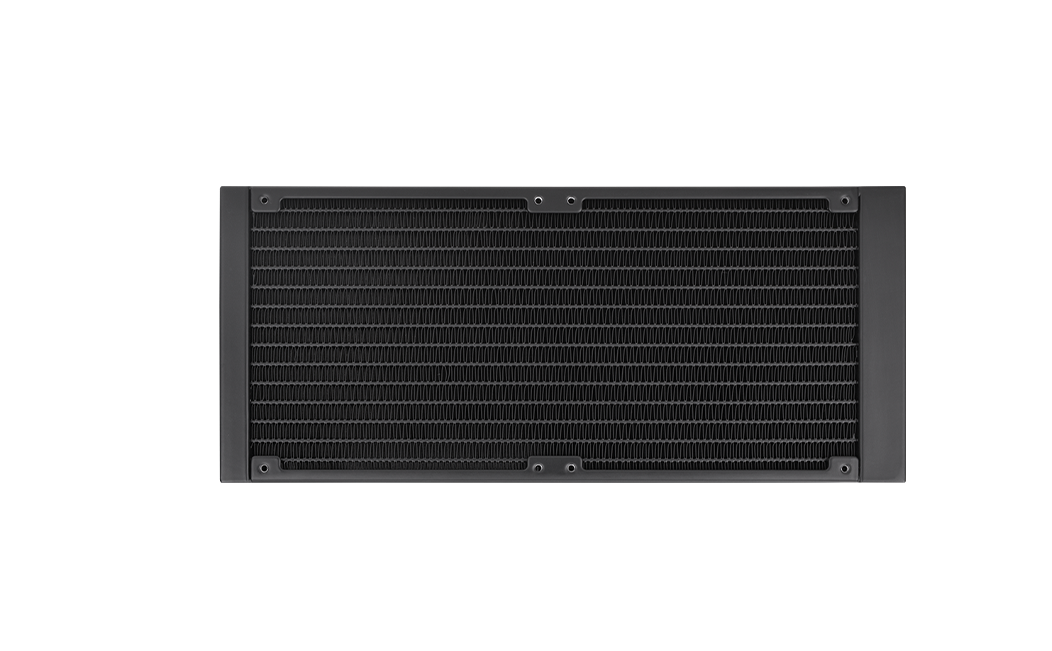 Less Cable, Less Mess
The new cable-integrated daisy-chain design allows the fans to be directly connected, so it minimizes demands of 4-pin PWM and 3-pin ARGB ports on your motherboard and shortens the cable length between the fans. We've also included one 900mm PWM cables and one 900mm ARGB cable for you to easily manage your cables while assembling your build.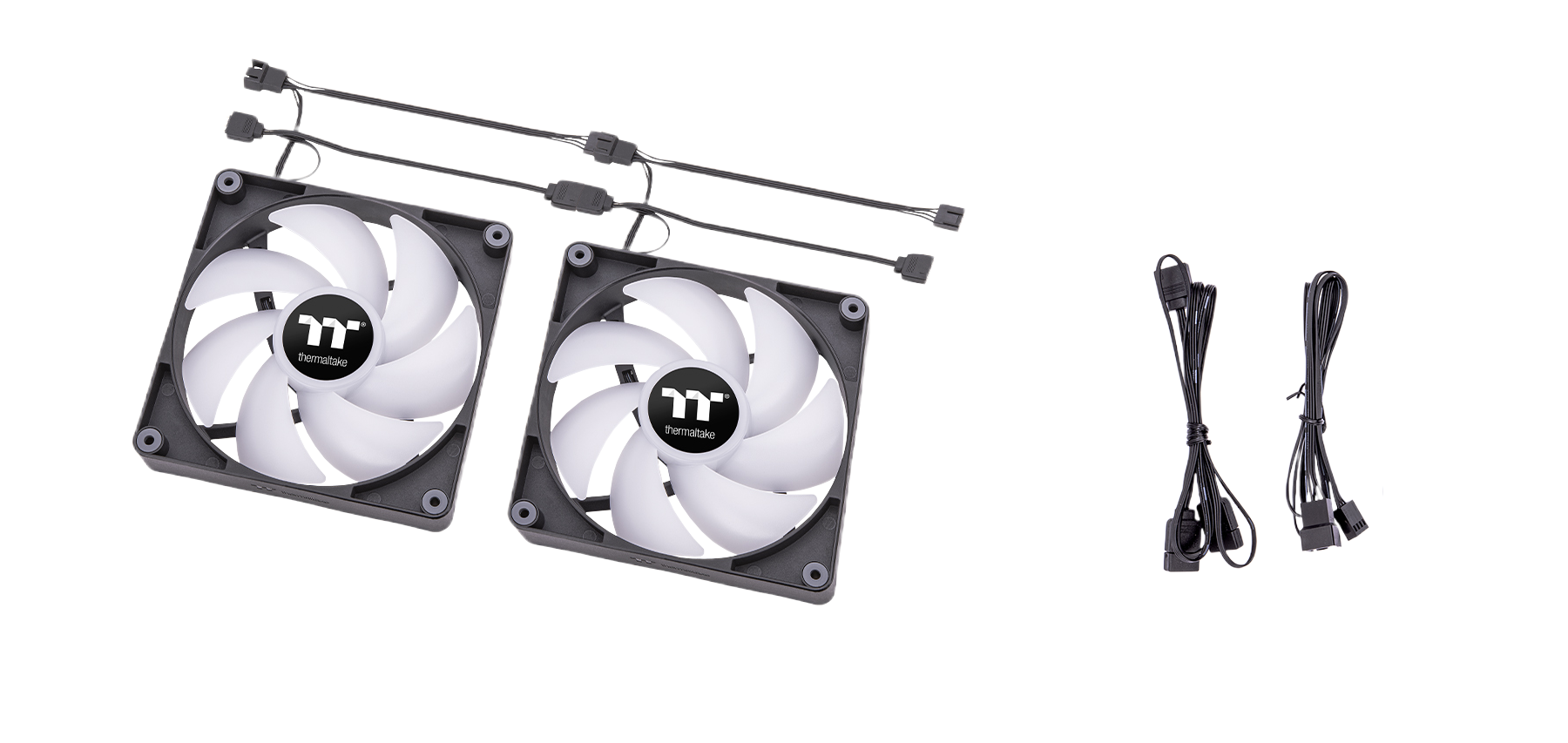 Keeping Your Cables in Place
You might have experienced easily detached 5V ARGB cables when you assemble your builds. Worry not; this 5V ARGB Connector Clip can guarantee that the cables are correctly connected and won't get loose in unexpected conditions.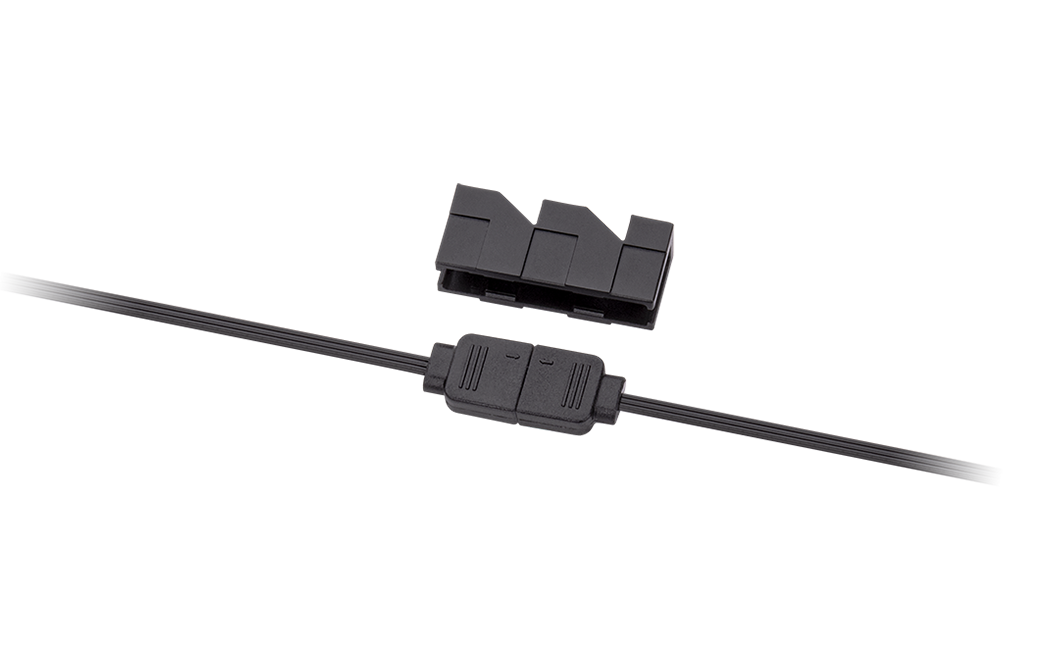 Keep it COLD with Copper
The high-performance copper base plate accelerates heat conductivity. The high-quality and reliable pump enables maximum water circulation, keeping the copper plate continuously cool. The low evaporation tube effectively decreases the loss of coolant; therefore, no refill is required.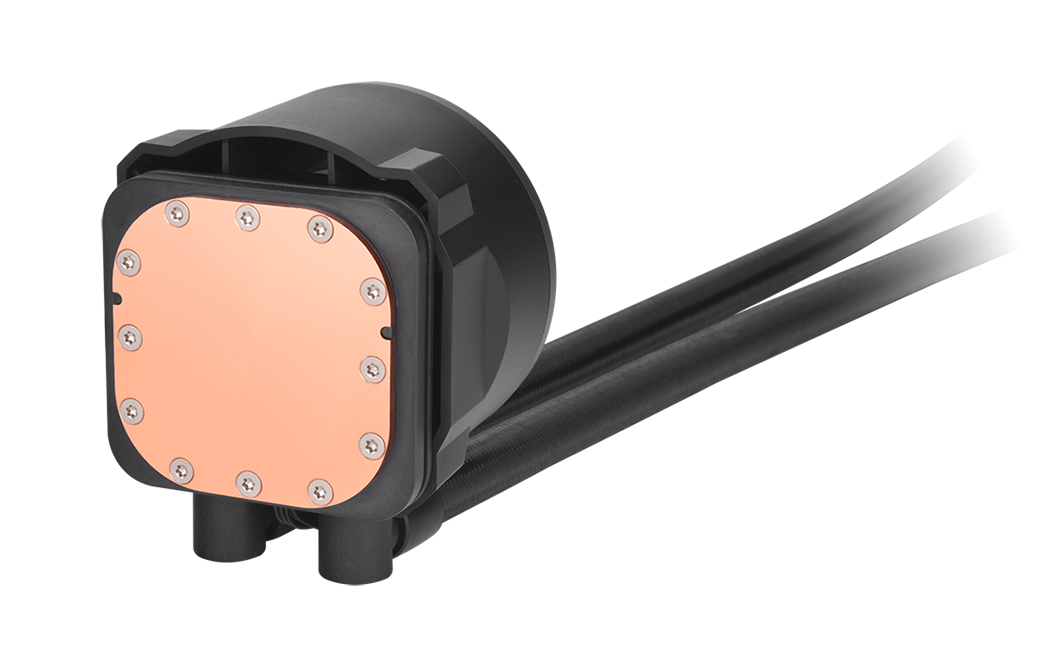 Fully Customizable with TT RGB Plus 2.0
Monitor frequency and real-time temperature directly from the 2.1" LCD display, or customize start-up and standby screens by uploading images or GIFs to add extra flair with the TT RGB Plus 2.0 software.
Caution:
- The Ultra Series products are only supported by the TT RGB Plus 2.0. Software.
- File size is restrict to 20 MB

Check out more animated GIFs for your AIO displays here.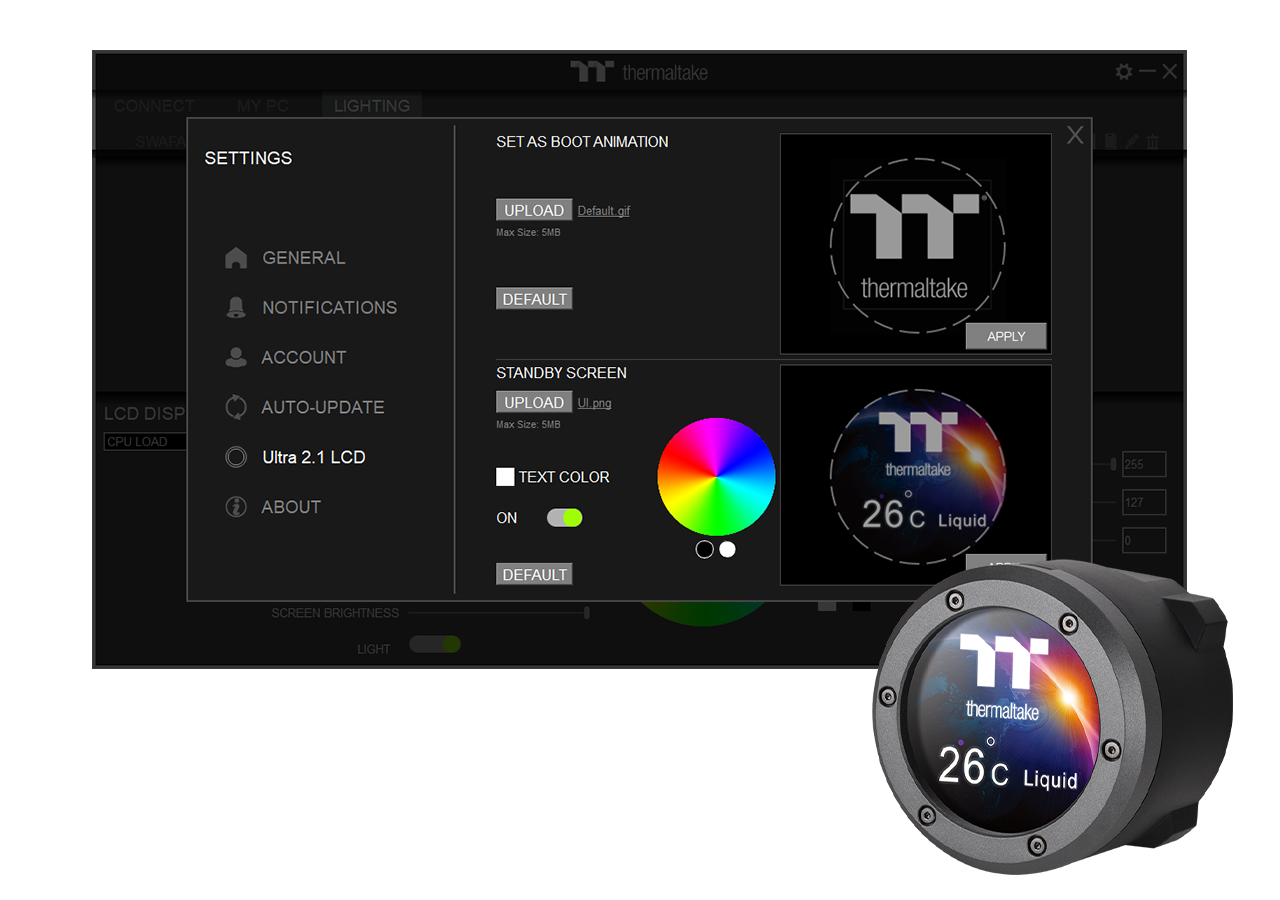 Start-up & Standby Screen Setting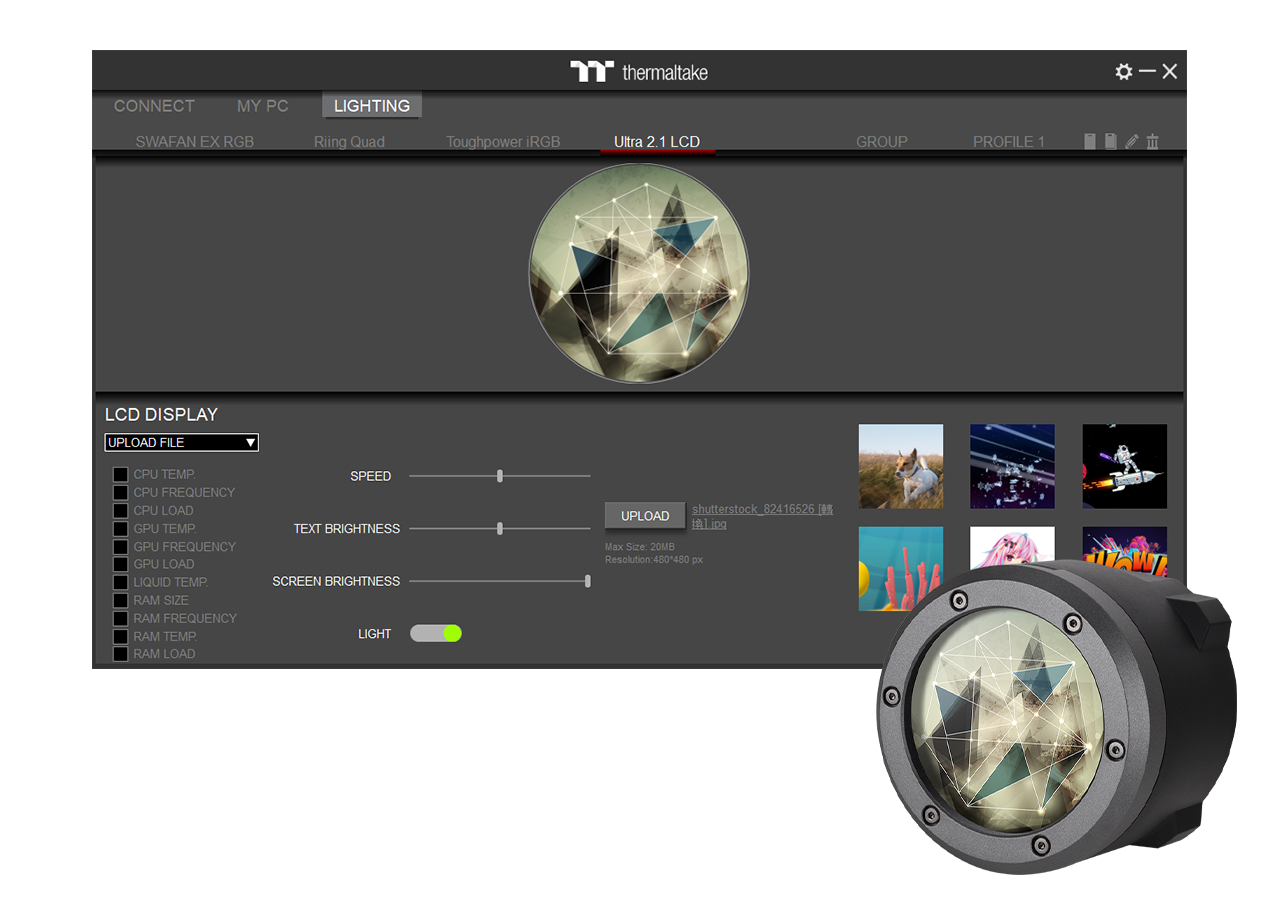 Start-up & Standby Screen Setting
Any CPU Can Be the Right CPU
The package includes brackets for the latest Intel and AMD CPU sockets to be compatible with the most modern CPU platforms, including the latest Intel LGA1700 and AMD AM5 CPUs.

Compatibility list:
Intel: LGA 1700, 1200, 115X, 2066, 2011
AMD: AM5, AM4, AM3, AM2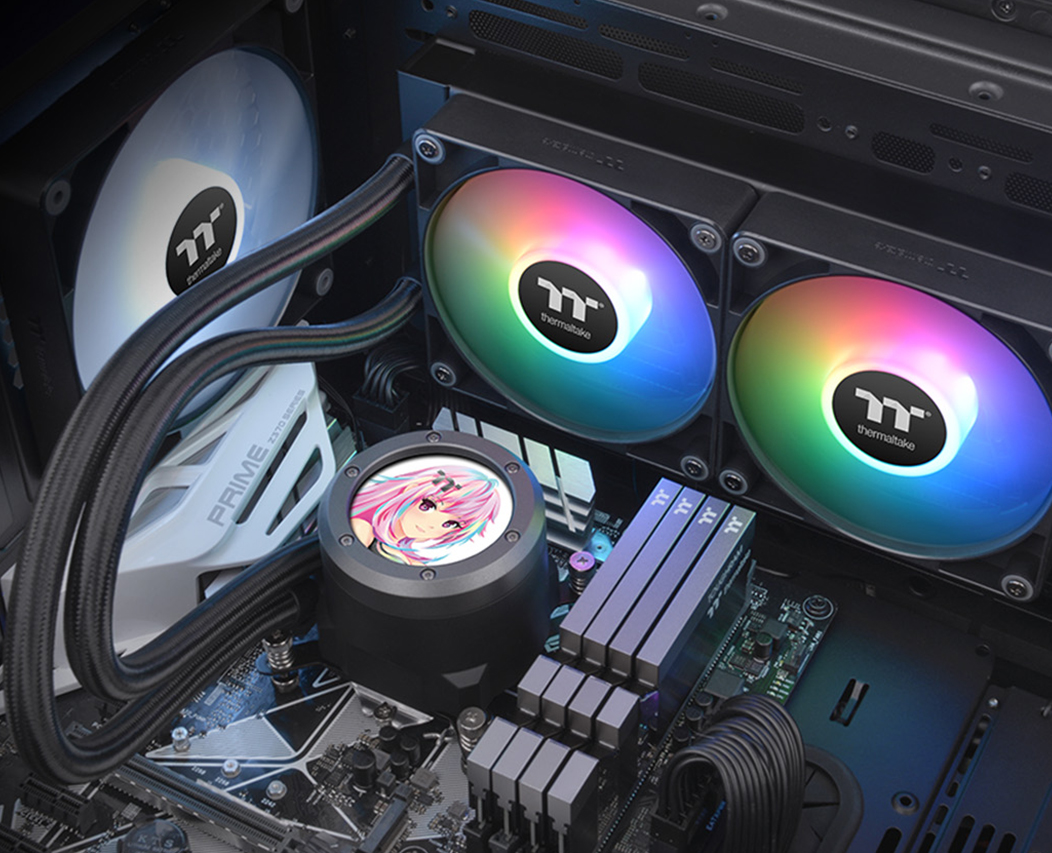 TT RGB PLUS
TT RGB PLUS Ekosistemi, Thermaltake'in patentli TT RGB PLUS Yazılımı ile birlikte en gelişmiş ve akıllı ışık sistemidir. TT RGB PLUS Ekosistemi renklerle oynamak, renkleri oyunlara göre senkronize etmek, müzik, CPU sıcaklığı veya kasa fanları, CPU/VGA su blokları, AIO CPU soğutucuları, PSU'lar, LED şeritler ve yan ürünler gibi diğer TT RGB PLUS ürünleri için neredeyse sınırsız olanaklar sağlar. Patentli yazılım, kullanıcılara ışık modları, renkler, hızlar, parlaklıklar, fan hızları ve hatta İOS ve Android cihazlardaki AI ses kontrolü alanlarında değişiklik yapabilmelerini sağlar.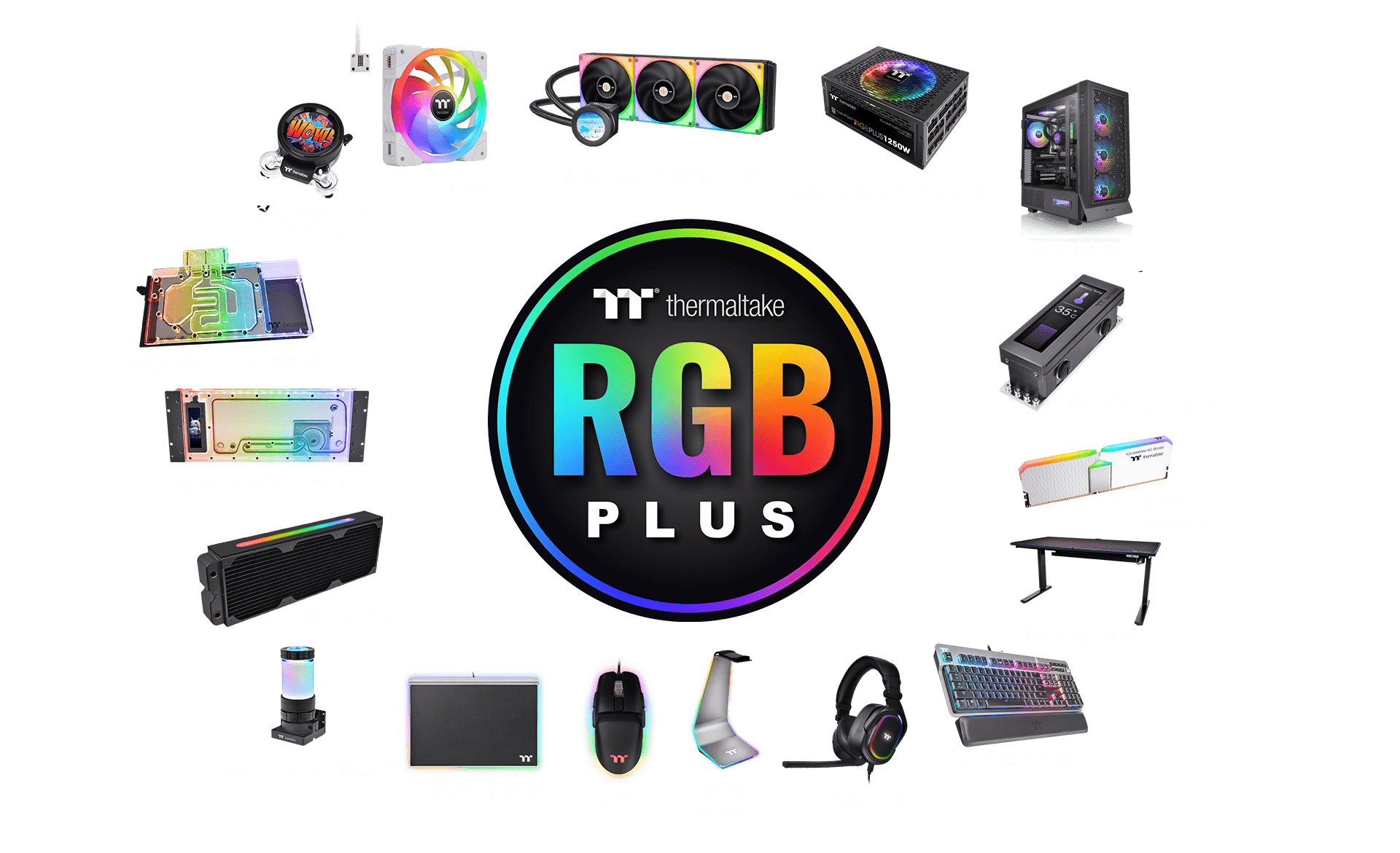 TT RGB PLUS Software
2.0 - New version of Thermaltake's TT RGB PLUS patented software, providing more lighting effects and PC monitoring functions.
1.0 - Thermaltake's patented software to synchronize TT RGB PLUS products with addressable LEDs.
Caution: TT RGB PLUS 2.0 and TT RGB PLUS 1.0 will overwrite one another; users can only install one version of TT RGB PLUS.

2.0 DOWNLOAD NOW 2.0 USER MANUAL
1.0 DOWNLOAD NOW LEARN MORE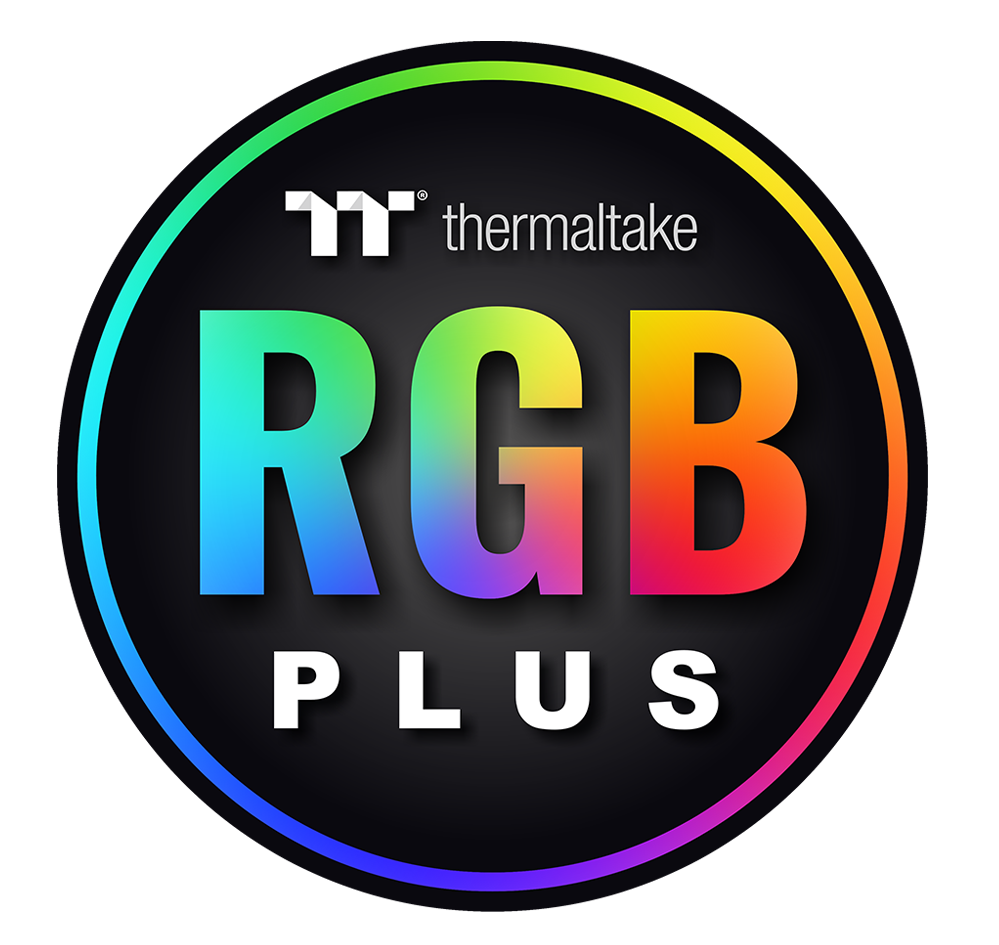 NeonMaker
The NeonMaker is a new and innovative approach to adjusting the RGB lighting on the some of our products, allowing users to customize lighting profiles and orchestrate their own light shows.
Personalize Riing Quad Fans, Riing Trio Fans, Distro Case, Floe DX RGB AIO, and TOUGHRAM RGB with NeonMaker!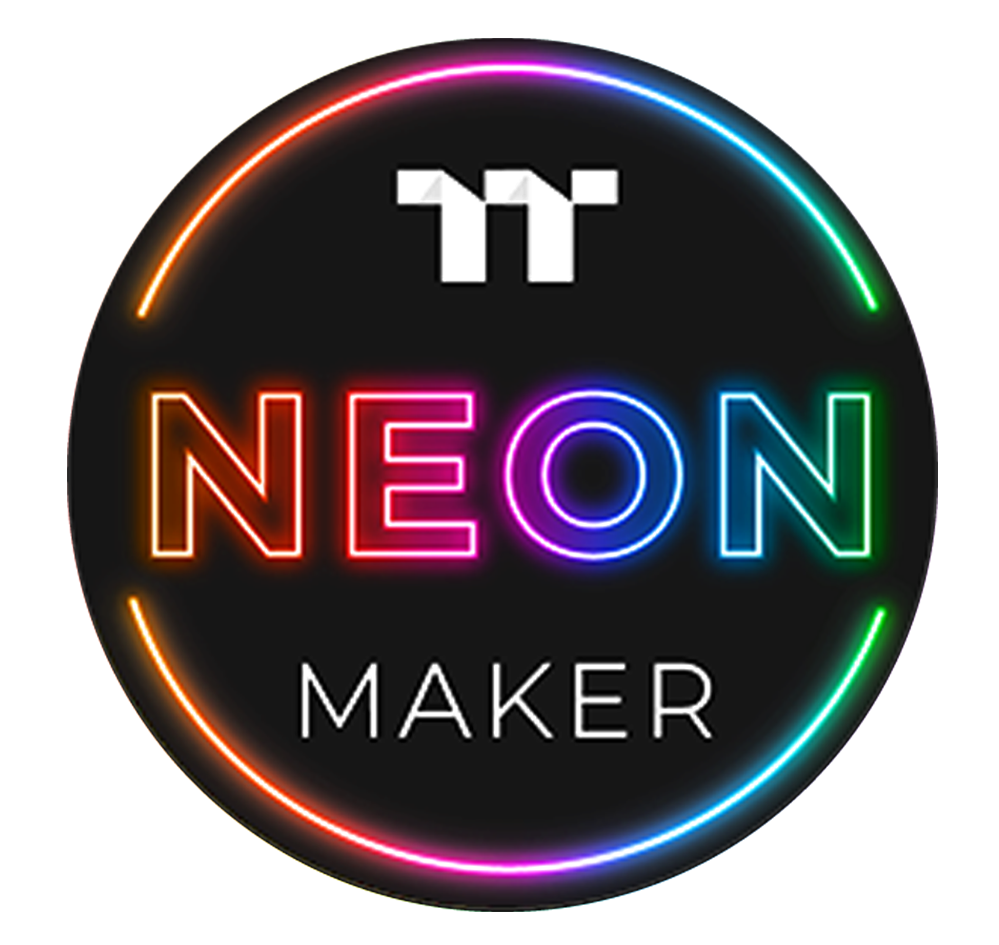 Works with Amazon Alexa
All Thermaltake TT RGB PLUS products support Amazon Alexa Voice Service, allowing you to give voice commands to the Alexa-enabled devices.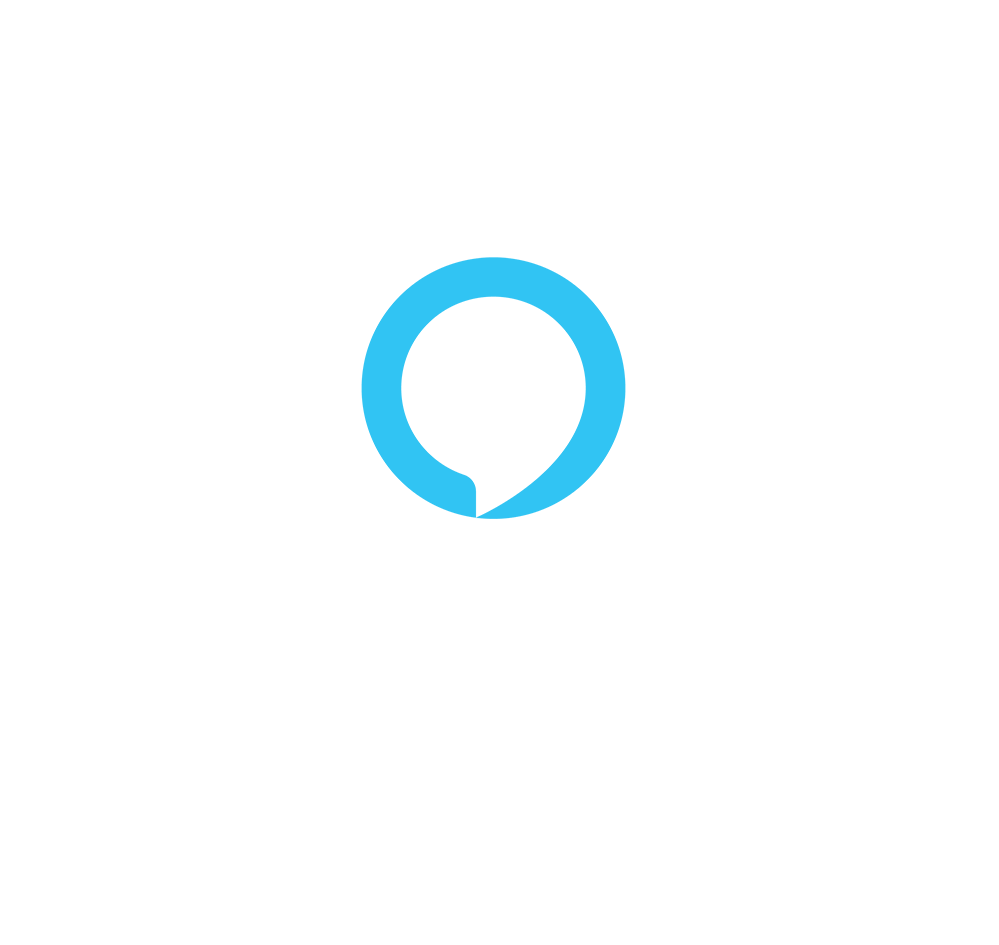 Sync with Motherboard RGB Software
Designed to synchronize with ASUS Aura Sync, GIGABYTE RGB Fusion, MSI Mystic Light Sync, and ASRock Polychrome. It supports motherboards with a 5V addressable RGB header, allowing you to control the lights directly from the software mentioned above without installing any extra lighting software or controllers. For more details, please visit ASUS, GIGABYTE, MSI, and ASRock official websites.
Category
Caution
Chassis, ARGB Fan, ARGB AIO

The motherboard signal connector only supports a 5V header.
Make sure your motherboard software is the latest version.

RGB Memory, VGA Waterblock, Distro Plate

This product can only be used with either the TT RGB PLUS software or the dedicated Motherboard software. By having more than two applications open may cause conflicts
The motherboard signal connector only supports a 5V header.
Make sure your motherboard software is the latest version.
Daha Fazla Bilgi
P/N
CL-W383-PL12SW-A
Pompa
Motor Speed : PWM 1500~3300 RPM
Rated Voltage : 12V
Rated Current : 0.43A
Power Input : 5.16W
CPU Display
Rated Voltage : 5V
Power Input : 1.15W
Display Type : 2.1"TFT-LCD
Display Resolution : 480x480 (RGB) px


Display Support
Interface : Micro USB to USB (9PIN)
System Compatibility : Windows 10 / 11
Su Bloğu
Material : Copper
Fan
Dimension : 120 x 120 x 25 mm
Speed : PWM 500~2000 R.P.M
Rated Voltage : 12V/5V
Rated Current : 0.11A & 0.31A (one fan)
Power Input : 1.32W & 1.55W (one fan)
Air Flow. : 57.05 CFM (one fan)
Static Pressure. : 2.23mm-H2O (one fan)
Noise Level. : 25.8dB-A
Tüp
Length : 460mm
Material : Rubber
Radyatör
Dimension : 276 x 120 x 27 mm
Material : Aluminum
Uyumluluk
CPU Socket :
Intel LGA 2066/2011-3/2011/1700/1200/1156/1155/1151/1150
AMD AM5/AM4/AM3+/AM3/AM2+/AM2/FM2/FM1

User Manual
Dosya Adı
Açıklama
Boyut
Version
Release Date